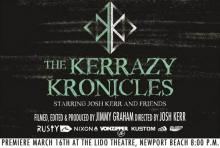 Rusty surfer Josh Kerr will premiere his new film, Kerrazy Kronicles, tomorrow (March 16th) at the Lido Theatre in Newport Beach.
Kerrazy Kronicles follows Kerr and his mates as they look for surf and adventure around the globe.  This marks Josh's first starring film and the debut for his company, Kerrazy Productions.  Josh arrives in Newport Beach fresh off competing in the first ASP World Tour event of the year at home in Australia.
You can also view the trailer here: http://vimeo.com/13085093.  For those who can't make it to the premiere tomorrow, Rusty will be showing the film live on their Facebook page.