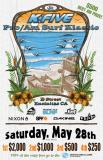 ENCINITAS, Calif., (May 24, 2011) – K5 Boardshops is hosting the 4th Annual K5 Pro/Am Surf Klassic Saturday May 28th at the legendary D Street break in Encinitas, CA.  Presented by Volcom, Transworld Surf, Nixon, Reef, Lost, Dakine and Spy, the annual event attracts the top competitive pro and amateur surfers looking to grab a cash prize purse of $4,000.  100% of the entry fees go to the Boys and Girl's Clubs of San Dieguito.
The K5 Summer Surf Klassic is kicking off summer in style this Memorial Day weekend.  Be sure to come by and watch the pro and amateur surfers going head to head with beautiful weather and waves in the forecast. An amazing long list of names rounded out the field last year including Cory Lopez, John John Florence, Chris Waring, Ricky Whitlock, Teddy Navarro, Dylan Goodale, Darrell Goodrum, 2009 champion Aaron Cormican and last year's Champion Killian Garland.  We will see who shows up this year to claim victory!
Just as last year, there will be no doubt in the scoring.  K5 has recruited the ASP judges as well as the ASP computer scoring system to give you instant scoring updates.  There will be some amazing heats to watch from the beach.
Here are the details: The K5 Surf Klassic starts at 7am sharp with a maximum number of entries being 48.  The entry fee is $65 which 100% of the proceeds go to Boys and Girls Clubs of San Dieguito.  There will be 4-man/20 minute heats with a 12 wave maximum per heat.  The K5 "Double Shred Points" take your best wave and double the score.  The highest combined two wave score advances.  The top two surfers advance per heat.  1st place is $2,000, 2nd place is $1,000, 3rd place is $500 and 4th place is $250.  There will also be prizes provided by the sponsors.  Be sure to bring your family and friends to hang out on the beach and kick off summer!
Go to K5.com for the on-line Surf Klassic entry form.
About K5 Boardshops
K-5 Boardshop has been selling Quality Surf, Skate, and Snowboarding Boarding Equipment since 1987. K5's first location is located five kilometers from the coast (K5). That's where the K5 comes from. If you're ever in the San Diego area, come check out one of our three retail locations. We have two 10,000 sq ft stores. The original in Encinitas, one in Poway, and the new 8,500 sq ft Paddle Surf Shop in Oceanside, CA. Products are available online at www.K5.com
Locations:
K5 Boardshop Encinitas
280 N. El Camino Real Encinitas, CA 92024
(760) 436-6613
K5 Boardshop Poway
12630 Poway Road Poway, CA 92064
(858) 679-6822
K5 Paddle Surf Shop Oceanside
525 S. Coast Hwy Oceanside, CA 92054
(760) 754-1982