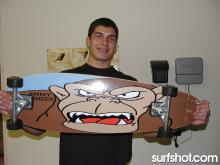 THIS GIVEAWAY HAS BEEN AWARDED
We are no longer accepting entries for this giveaway. Please look for recent giveaways in our Giveaways Page.
For more info on Jimmy Slinger Skateboards
click here!
Raphael Gandara, the Skateboard Winner
For those reading this message we strongly encourage you to check if you have updated contact information on the SurfShot.com site. We say this because we tried to contact 3 guys to win a Skateboard before we finally selected Raphael who took 2 minutes to reply to his winning message. It is very frustrating when you are trying to hook people up but you can't find them. So, please, update your email address as well as address and phone number.
Back to Raphael, the one with updated info, here is what he said on his email:
WOW, that's killer! I sure want the skateboard!
What a surprise. I usually don't have luck in any Giveaways. Now will be easy to ride around with the new skateboard.
Thanks a lot guys for all the pictures everyday. Surfshot.com is my favorite site to find good waves around San Diego County!
Rock on Raphael. We are sure you will enjoy a lot your brand new Jimmy Slinger Skateboard!