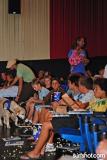 Seven years in the making, San Diegan filmmaker Mark Jacobs has put together a truly inspirational movie in documenting the life of Jesse Billauer. Â "Jesse's Story" premiered in front of a capacity crowd in Huntington Beach last night, thanks to the wonderful people at Big Red Productions.
Jesse himself was on hand to give insight to the premise behind the movie and answer questions from the audience. Â His family and close personal friends who not only play an integral role in his personal life, but in the film as well, were also in attendance.
"Jesse's Story" does not just cover his life-altering accident at Zuma Beach; it gives insight to the person he was prior to, and the icon he has become after. Â The road he has journeyed upon may have been pocked with emotional and certainly physical challenges, but upon seeing the movie Jesse Billauer will prove to you that Live certainly does Roll On.