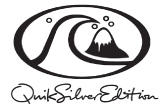 From Lynchburg to Los Angeles, Jack Daniel's and QuikSilverEdition Celebrate the Backyard Barbecue
QuikSilverEdition today announced that it is partnering with the whiskey and barbecue experts at Jack Daniel's to host a series of neighborhood barbeque competitions this summer at the QuikSilverEdition Mission in Venice Beach, California.
In celebration of the art of outdoor cuisine, one of the many casual luxuries of the coastal lifestyle, these friendly competitions will pit backyard heroes against local professional chefs as SoCal's finest showcase their unique open flame styles and serve up choice offerings to the panel of community judges.

The series of three events, beginning this Saturday July 14, are free and open to the public. Barbeque fans of all ages are invited to join in the judging process and responsible drinkers over the age of 21 will be able to sample some of Jack Daniel's fine Tennessee Whiskey. Confident and passionate barbecuers can even enter to compete! In addition to neighborhood bragging rights, the winners of each individual competition will receive fabulous prizes from Jack Daniel's and QuikSilverEdition. The winner of the overall championship on August 25 will be crowned "Jack Daniel's BBQ King of Venice."

Schedule of Events:

Saturday, July 14 - Local gourmet hero, Jason Stroh of Stroh's Gourmet, challenges dog-town marinades and a super secret surfer sauce.

Saturday, August 4 - Big Baby Blues BBQ brings the dirty south to the South Bay - Watch out soccer moms!

Saturday, August 25 - Final showdown and the crowning of the Venice Beach Jack Daniel's BBQ champions
For more information about the competition or the featured chefs and to reserve your place at one of the upcoming events, visit www.quiksilvereditionmission.org
If you, or someone you know, is a passionate barbecue cook anxious to showcase their skills, please contact Adam.Katz@quiksilver.com for more information on entering the competition.

About the QuikSilverEdition Mission
The QuikSilverEdition Mission is a temporary project and a physical space - a place where artists and designers join the surfers and the suits to swap travel stories, meet their heroes, tune up their ten-speed or just relax with a few cocktails at the bar.

It is our mission to create a place where the unique spirit of the California coast will be nurtured, shared and taught. By combining social gatherings, art events and educational forums we pay tribute to the pillars of our community's strength. The Mission on Abbot Kinney intends to ensure a sustainable natural environment, a welcome and creative society and the freedom to enjoy life's easy pleasures.

The QuiksilverEdition Mission is made possible by its network of creative and innovative partners. Special thanks to The Mission, Global Inheritance, Stoked Mentoring, Perfect Day Surf Camps, Yogaworks, Plantronics, Altec Lansing, Peroni, Tequila Herradura, Longboard Vineyards, Jack Daniels, Hint Water and Redbull.

The QuikSilverEdition Mission is located at 1621 Abbot Kinney Boulevard, Venice 90291.