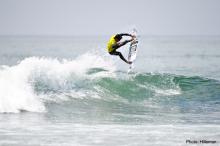 LOWER TRESTLES, San Clemente/California (Thursday, April 19, 2012) – The 2012 ASP PRIME Nike Lowers Pro is set to return to the iconic cobblestone pointbreak of Lower Trestles from May 1 through 5, 2012 and will see several of the world's best surfers take to the water for the crucial points on offer towards their ASP World Ranking.
The Nike Lowers Pro's Round of 96 format coupled with Lowers' machine-like waves often sets the stage for what many boast to be the most progressive event of the year and with several ASP World Championship Tour surfers and up-and-comers knocking on the door of ASP Top 34 competition, this year's Nike Lowers Pro has all the ingredients to generate another amazing event.
Miguel Pupo (BRA), 21, defending Nike Lowers Pro Champion, joined the ASP Top 34 immediately following his win at Lower Trestles in 2011 and despite the pressure that comes along with returning as reigning event winner, Pupo maintains a relaxed approach to this year's competition.
"I feel pretty relaxed going into this year's contest, actually," Pupo said. "I know that there will be a lot of pressure on me but I try not to think a lot about it. I'll surf like if it was my first time there and most of all I'll try to have fun because I've already won the contest. Hopefully, I can do well again."
Pupo, who is claimed by many to be one of the world's most progressive surfers, is also looking forward to showcasing his talent while enjoying Lowers' empty lineup.
"I think it is the easiest wave to surf," Pupo said. "You can do whatever you want out there but it's always crowded. I've been there to free-surf 100 times but I couldn't catch good waves and when we are competing, we have a chance to surf all the waves that we want to. That has been my goal, to try to make as many heats as I can just to surf Trestles with only one more guy out."
Julian Wilson (AUS), 23, 2011 ASP World Championship Tour Rookie of the Year, is one top-seed ready to display his world-class ability on Lower Trestles' ideal platform.
"We don't get to compete on another wave like that, where you have the same predictable sections time and time again," Wilson said. "You know when you stand up on a good wave at Trestles that you will get multiple opportunities to showcase your ability. However, the four-man heats can get a little tricky."
While Wilson knows the blend of ASP Top 34 and ASP PRIME talent will provide a challenge at the Nike Lowers Pro, the progressive Australian will approach this event no differently than a regular event on the ASP World Championship Tour.
"After the first few rounds, there really isn't a great deal of difference," Wilson said. "There will be a hand full of World Tour surfers in the event and there are plenty of guys competing on the PRIME series that are knocking on the door for the World Championship Tour, so the level will be high. Personally, my mindset won't change and I'm pumped to surf uncrowded Lowers again!"
Nic Von Rupp (GER), 21, Nike Lowers Pro wildcard, has been building momentum in major ASP Star and PRIME events and is hoping to garner another keeper result towards his ASP World Ranking while elevating his game at the Nike Lowers Pro.
"I am so stoked Nike gave me a wildcard into Lowers," Von Rupp said. "It is an event that everyone wants to be in. It is a fun rippable wave with four people out, so this is anyone's dream. I started off the year well with a 9th at the PRIME in Noronha, so I'm going to approach Lowers with the same tactics and feelings of wanting to earn a result."
The ASP PRIME Nike Lowers Pro will run at Lower Trestles from May 1 through 5, 2012 and will be webcast LIVE via www.nikelowerspro.com
For additional ASP information log on to www.aspworldtour.com or www.aspnorthamerica.org