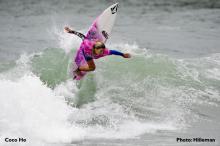 HUNTINGTON BEACH, California/USA (Tuesday, June 19, 2012) – The inaugural Association of Surfing Professionals (ASP) 6-Star Paul Mitchell Supergirl Pro has been added to the ASP North America schedule for 2012 and will run at Oceanside Pier in Oceanside, California from August 9 through 12, 2012.
While the Women's US Open of Surfing acted as an ASP 6-Star in previous years prior to its upgrade to an ASP WCT event, the Paul Mitchell Supergirl Pro will fill a much needed void in the regional schedule, offering up-and-coming talent crucial points towards their quest in joining the elite ASP Top 17.
"The Paul Mitchell Supergirl Pro is a great addition to the ASP Schedule and we hope this event acts as a building block for additional women's events in North America," Jessi Miley-Dyer, ASP Women's Tour Manager said. "The Paul Mitchell Supergirl Pro will be a great platform for up-and-coming girls to push their limits against some of the world's best and we'd like to thank Paul Mitchell and Supergirl for their collaborative efforts to bring this event to life this year."
The Paul Mitchell Supergirl Pro will act as the only ASP Star event on the 2012 ASP North America calendar and will immediately follow the final stop on the ASP Women's WCT season. With the US Open of Surfing culminating the week prior, a result at the Oceanside event will be crucial for the ASP Top 17 members who failed to make the top 10 during their ASP World Title campaigns.
"In addition to being the only women's qualifying event in North America this year, the Paul Mitchell Supergirl Pro will play a big role in deciding the qualifiers for the 2013 ASP WCT," Miley-Dyer said. "Following the conclusion of the ASP World Title in Huntington Beach, several girls will be looking to solidify their position among next year's ASP Top 17 and the Paul Mitchell Supergirl Pro will provide the perfect opportunity."
For additional ASP information log on to www.aspnorthamerica.org