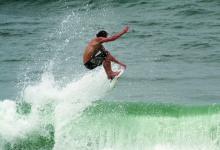 It's amazing what can be done in five hours. A simple myspace bulletin, a couple of flyers, and word of mouth was all Mahlchers founder Eric Sorensen needed to set up the first annual Osiris Show Up and Blow Up. On Saturday, June 24, 2006, Sorensen's last minute decision to throw, promote, and gather prizes for an off the cuff surf and skate competition paid off.
The format was simple. Show up and blow up was literally what was going down. The first to show up at Stone Steps in Encinitas were the first competitors to hit the water, and anyone who showed up during the first hour-and-a-half was allowed to compete. Mahlcher Brian Reid and the Pismo brothers, Evan and Jeff, judged surfers in most consistent and best trick categories. Eight surfers moved on to the semifinals, and the best four from the semifinals moved on to the finals. Nathen Hink was awarded most consistent and, although not in the top eight, Derek Bockleman was awarded best trick for his exploding pop shuvits, one motions, super y's, and airs.
The skate format was just as spontaneous; a 2-hour free-for-all without rounds. The results, however, were unanimous. Mason, a.k.a. popeye, won for most consistent, Jamie Lovett pulled off the best trick, and Luke Riffe won for best overall surf and skate. All participants received an Osiris t-shirt and the top four were awarded Osiris shoes, t-shirts, and hats. Then, to top it all off, local metal band Nihilist showed up. While the crowd was insane, the event rounded out with only one injury and no damage. The event was a success.