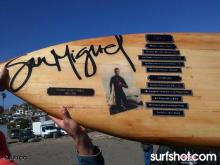 The 2nd annual Walter Caloca Open at San Miguel on April 1st. was history, and also the first ever forum on the state of surfing in Baja California that took place on March 30th at Cetys University in Ensenada. Scientists, surfers, NGO representatives, politicians and business owners discussed issues related to coastal access, water quality, the economic value of surf spots and efforts to improve the current situation of the region's coastline. Although limited coastal access and poor water quality is currently limiting economic and recreational opportunities, there is a new wave in Baja California to improve the situation. Speaker's from Pronatura, the Autonomous University of Baja California (UABC), WiLDCOAST, Surf Ens, Cetys University, Locales Surf School from Rosarito and the United Athletes of the Pacific Ocean (UAPO) presented their collective efforts to engage youth in the sport of surfing and reestablish a clean and accessible surfing environment. The event was a great and significant success and attended by a number of university and high school students, surfers, local decision makers, business leaders and the general public. At the closing of the conference, UAPO donated a copy of "The Tribe of the Waves" by Mexican author and surfing pioneer Ignacio Nacho Felix to the university's library.
The weekend's events continued at the 2nd Annual Walter Caloca Open at the iconic break of San Miguel with waves higher than 8 feet. Walter Caloca, a local Ensenada surfer, tragically passed away in 2010 at the age of 18 in a car accident. In 2011, UAPO, a San Diego and Ensenada based nonprofit, and local Ensenada surfers decided to carry out an annual surf contest in his honor. The contest was an instant success and San Miguel showcased classic point break conditions for the inaugural event.
This year, WILDCOAST partnered with UAPO to expand the event even more. Once again, surfer's were greeted with one of the best swells in history and for two days, surfers from Mexico, Venezuela, California and Hawaii showcased some of the most progressive surfing ever witnessed at San Miguel.
Saturday, March 31st was the junior, school and body board divisions. The young Venezuelan Derek Gomez ripped his way to both finals in both the age 12-15 and 16-18 divisions. Judges and spectators were amazed by the 15 year old's mature style and explosive surfing who seemed to only fall when his board snapped in two in the dying minutes of the 16-18 final. Equally impressive was Imperial Beach's Josh Johnson who scored a perfect 10 (the only 10 of the event) in the 12-15 semi finals with a double barrel ride across the entire cove section of San Miguel. Josh placed second in his division. Thirteen year Zach Randall from East Lake Middle School came in third. Second place in the 16-18 division went to Andres Aguirre from Ensenada. Also making the final were Michael Roccoforte from El Cajon, and Jorge Olvera from Ensenada. Paloma Aguirre of San Diego won the Open Body Board division with Ensenada's Jose Peralta coming in a close second.
The Open Division of the contest took place on Sunday with an increasing combination of swells and flawless conditions. Thirty surfers from three different countries put on an exceptional show of surfing for the spectators and judges. Dylan Southworth from Sayulita, Nayarit surfed consistently to the final and took home first place. In a close second was Imperial Beach's Sean Fowler. Placing third and forth were Cheyne Willis from Hawaii and Travis Southworth of Sayulita. In the women's division it was Narra Nunez who took the win and Everardo Montoya won the longboard division. Both surfers are from Ensenada.
Casa Albergue, a home that take care for the well-being of abused and abandoned children that provides better living conditions supported the event and participants brought clothes and food for the kids.
Additionally, between San Miguel surfboards and Rerip 3 boards were giveun out to local kids who also participated in a beach cleanup at San Miguel on Saturday and Sunday that was sponsored by Ocean Minded.
The weekend's events were a tremendous success and marked a new wave for surfing in Baja California. WILDCOAST and UAPO look forward to expanding the event in the future and bringing even closer together surfers on both sides of the border. WiLDCOAST and UAPO would like to give special thanks to Ocean Minded, Baja Bound, PAWA, Maquila Properties, Ensenada's Secretary of Tourism, Boules, Chega and San Miguel Surfboards, Casa Albergue, Rerip, Adobe Guadalupe and Cetys University's Ensenada campus for making the event possible.