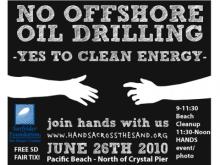 San Diegans Can Join in Largest Gathering Against Offshore Oil Drilling In History, June 26
San Diego, CA (June 15, 2010) - San Diego County residents can join concerned citizens across the nation on Saturday, June 26 at 11:30 a.m. in "Hands Across The Sand," an event at which people will join hands on beaches and in parks and cities all across America, united against the dangers that offshore oil drilling present to our oceans and marine wildlife, fishing industries and coastal economies.
Taking place on the north side of Crystal Pier in Pacific Beach, the event will follow a free and open-to-the-public 9 – 11:00 a.m. beach cleanup at the same location, hosted by the Surfrider Foundation, San Diego Chapter. Hands Across The Sand's mission is to steer America's energy policy away from its dependence on fossil fuels and into the light of clean energy. Together, participants will draw metaphorical and actual lines in the sand; human lines in the sand against the threat oil drilling poses to America's coastal economies and marine environment.
"We need to convince our state legislators, governors, Congress and President Obama to stop the expansion of offshore oil drilling and to adopt policies encouraging clean and renewable energy sources, " said Dan Murphy, executive committee member of the Surfrider Foundation's San Diego Chapter. "America needs legislation that creates tax incentives and subsidies to encourage the growth of clean energy and renewable industries for America's future."
"The image is powerful, the message simple," said event founder Dave Rauschkolb. "No to offshore oil drilling, yes to clean energy. We are drawing a line in the sand against offshore oil drilling along America's beaches and in solidarity events across America and around the world. No one industry should be able to place entire coastal economies and marine environments at risk with dangerous, dirty mistakes."
Hands Across The Sand was founded by Rauschkolb in October of 2009. Rauschkolb is the owner of three restaurants on the Beach in Seaside Florida located on the northern Gulf Coast between Pensacola and Panama City. He organized a statewide gathering on February 13, 2010, to send a message to Florida's legislators and Governor Crist that Floridians did not want them to lift the bans on near and offshore oil drilling in Florida's waters. Thousands of Floridians representing 60 towns and cities and over 90 beaches joined hands to protest the efforts by the Florida Legislature and the US Congress to lift the ban on oil drilling in the near and off shores of Florida. Thousands joined hands from Jacksonville to Miami Beach and Key West to Pensacola Beach. The lifting of the near shore ban would have brought oil rigs as close as 3 miles from Florida's shores. Shortly after the event the Florida Legislature tabled the effort.
FOR MORE INFORMATION ON THE EVENT PLEASE VISIT THE SAN DIEGO SURFRIDER FOUNDATION CHAPTER'S WEBSITE

http://www.surfridersd.org/