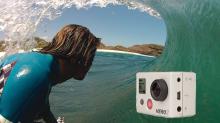 The GoPro Team has released their amazing new HD Hero 2 to the public.  Like the previous version it is compatible for filming multitudes of action sports.   In the new Hero2 highlights video, surfers such as Alana Blanchard, Monyca Byrne-Wickey, Marlon Gerber, Lee Wilson, Mikala Jones, Malia Manuel, Made Garut Widiarta, Raditya, show the fantastic footage they captured and sharpness quality of the new HD Hero 2 has.
The new HD Hero2 is still wearable and surfboard mountable, waterproof to 197′ (60m), capable of capturing professional full 170º wide angle 1080p video and 11 megapixel photos at a rate of 10 photos per second, the HD HERO2 is the world's most versatile camera. It is the smallest, lightest, most powerful HD camera in the world for capturing and sharing immersive videos and photos of you and your friends surfing and traveling the globe.
One of the new features is the awesome 11 megapixel photos in HD Hero2. The user also has the ability ,depending on your SD card size, to switch between 11, 8, 5 MegaPixels photos. The new lens is 2x sharper than previous models and a more professional image in low light levels. The new burst mode allows the user to do 10 photos in 1 sec, which could be amazing for those barrel rides.
The video aspects have been enhanced just as much as the photo side.
In 1080p mode - new medium (127º) FOV and narrow FOV (90º) FOV In 960p mode - 48fps In 720p mode - medium (127º) FOV and narrow FOV (90º) FOV In WVGA mode - 120fps
For more information or to order your new GoPro HD Hero2 please visit their website - http://www.gopro.com