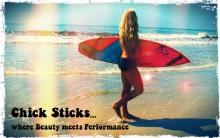 http://www.girlonaboard.com/surfingnews/2013/1/16/4-amazing-women4-amazing-shapers4-amazing-stories.html
Wednesday, January 16, 2013 at 12:32PM
What's more powerful than a strong, woman that surfs? How about a strong woman that runs her own company that creates incredible surfboards?  Read on to hear about Lola Blake the Girl Behind Chick Sticks Amazing Story!!
Lola Blake - Chick Sticks, Oceanside, CA
USA SHAPED PERFORMANCE SURFBOARDS FOR GIRLS
"
I started the Chick Sticks brand because there weren't any Surfboards designed for girls. When I first got in to Surfing I was buying used guys boards, painting them and making them look cool but they were too hard to ride so I started having customs shaped for me that I could learn to surf on. My friends loved the way my custom boards rode and girls were literally buying my boards right out from under me at my surf break or having me hook them up with the shapers making mine and I just thought, I need to be fully hands on with this and make these boards for other girls. I'm partial to short boards and quad fin set ups because I learned to surf on a 5.9 Fish. Everyone told me I was crazy to try to learn to surf on anything less than a 9.0 but I knew it was possible with the right modifications. Now I have every age learning to surf on my boards and Girls are drawn to the Chick Sticks brand because it's the real deal. Every board model offers something unique to suit every level and style of surfing as well as modifications that help girls, things like narrower tails on my quad setups for easier duck diving.
My shapes are all High Performance with Girl Friendly modifications and feature graphics that I design myself. And they are my own board programs that I developed after a year of R&D testing out in the water and perfected by my shaper. I don't cut corners anywhere and start with the highest quality blanks and use colored glue line and stringers and all my boards come with full board art. I'm very fortunate that Master Shaper, World Champion and current WSA #1 ranked surfer Javier Huarcaya is my shaper and that we work so well together. XTR CNC Engineer Dane Hantz refined my board programs and Javi has 30 years of Surfing and Shaping to his credit. My Factory shapes boards for Clay Marzo, Dane Reynolds, Courtney Conlouge and Bethany Hamilton to name a few. My brand is true high performance shaped by the Best and run by an All-Girl Company."
GOAB: Was there a defining moment, that you can remember when you decided that this was what you wanted to do? Yeah. When I proved everybody wrong and learned to surf on a short board. I was so Stoked that my ideas and concepts were working and my boards got so much attention that I threw myself into developing a girl's brand. When I made my first demo set I figured worst case I'd have a bunch of really cool boards in my quiver.
GOAB: How did you persevere to where you are today in a field that is so male dominated? I have to say I really did pay my dues. It was so rough in the beginning. Everyone told me I was crazy, stupid, there was not a girls market out there. They said the economy and surf industry in general was in the dumps and I'd never make it. Some of the people I asked for help either didn't take me seriously or only gave me half the information I needed to make something happen. And I had my first couple of shapers leave me so when I think back now to where I started and what it took for the Chick Sticks brand to be what it is now this has been the most challenging but also the most rewarding thing I've ever done in my life.
GOAB: We've often read that a board is a board is a board (always written by men!). How do you feel that shaping a board for a women is different and do you feel that being a women you understand that need more than a man can comprehend? No one knows better what a girl needs or wants than a girl! I'm so lucky to have aligned with Javi who is on the same page in the fact that he too believes that girls don't need a longer board to make surfing easier they need the proper shape, dimensions and board model to fit their smaller frames and how the mechanics of a girl's body works. He is the one that was able to take my board programs to the level where every board model is performing at maximum capacity. I'm beyond Stoked.
GOAB: What advice would you give to other young woman surfers that are interested in pursuing a career in this industry? My first piece of advice is listen to your gut and don't let anyone talk you out of your dreams. Go for it. And be prepared for long hours and hard work. Basically, do whatever it takes to make it happen. I think with that attitude and a good work ethic if you have a good idea you will succeed. Set your goals high and believe in yourself.
GOAB: Was there ever a time that you thought of throwing in the towel and how did you overcome that feeling? Oh my God Never. Not even once. I come from a competitive athletic background and am fortunate those years of training and focus taught me to be relentless in pursuing my goals.
GOAB: Did you learn all aspects of designing a surfboard from concept to graphics to glassing, or do you leave some of those things in the hands of others?
I think I have watched every Surf DVD ever made, I read all the surf mags cover to cover each month and I've learned so much from each of the shapers I've worked with and committed myself to developing boards for girls that work and look sick. My boards are machine cut and I leave the mill work, shaping, glassing and finish in the hands of the best. I can't do it all. I have no desire to learn to do that part of the process when I already have the best in the industry shaping my boards.
GOAB: What exciting things do you have in the works for 2013 and beyond? I'm so Stoked and it's going to blow people's minds when my Chick Sticks XTR Pro Series launches this month. My highest performing shapes, Little Screamer thruster, Vixen five fin option fish and the Hoochie Mod five fin option egg have been supercharged XTR style starting with closed cell waterproof foam blanks and the shapes have aggressively been reworked. The Pro Series line is a stronger, lighter stringlerless epoxy and have parabolic channels on the deck for ultimate flex and responsiveness. I'm working on my Starlette longboard and Sea Goddess Stand Up and I'm adding more skateboards to my Chick Sticks brand. I get so many requests from guys for surfboards that I'm launching a very sick brand for guys this year and I'm working on expanding my Surf School to a Mexico or Costa Rica location. So between trying to keep up with all my board orders, my online surf and skate shop and new boards coming out this is going to be a busy year for me. I'm so Stoked about my brand becoming a lifestyle for Girls and being able to use it as a platform to encourage girls to get in to surfing and skateboarding and believe in themselves and promote Girl Power Stoke. And I feel very blessed to be doing what I'm doing.