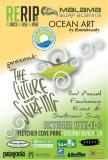 GREEN GIVEAWAYS AND SKATE RAMP ADDED TO LINEUP AT THIRD ANNUAL "FUTURE OF SURFING" BOARD SWAP AND FUNDRAISER

FOR IMMEDIATE RELEASE: Solana Beach, California – October 7, 2009 – Surfing enthusiasts from across San Diego will gather to participate in Rerip.com's third annual "Future of Surfing" surfboard swap and community fundraiser on Saturday, October 17th in Solana Beach. In addition to the surfboard swap and green product offerings, the event now will feature two skate ramps with demo's by OB Surf and Skate's team of skaters and over $5,000 dollars in green prizes and giveaways.

The event, co hosted by the City of Solana Beach, Malama Composites and Wade Koniakowsky, will be held from 11 am to 3 pm at Fletcher Cove Park in Solana Beach. Participants of all ages will have the unique opportunity to trade in used surfboards for a wide variety of "green" products, and a chance to view the most innovative and current environmental advances in surfboard construction, materials and design. A surfboard recycling bin will be on-site for broken or unsurfable boards. Donated boards will be resold at the event with proceeds benefiting the Solana Beach Junior Lifeguard Program. Local musicians, shapers, artists, vendors and environmentally minded organizations help make the day a true community event.

Sergeant Greg Uruburu of the Solana Beach Lifeguards is looking forward to the event next Saturday. "I am really excited to see the Future of Surfing back for a third year. It is great to see so many people from the community come out to support the Junior Guards, and it always ends up being a great chance for the kids and the community to learn about surfing's impact on the environment and about being responsible surfers."

About www.Rerip.com
Rerip.com is the leading online classifieds site for selling, buying, reusing and recycling action sports equipment. The company understands the importance of having the best and most functional equipment, and also the need to be ecologically responsible by sharing the resources that already exist. Whether providing the best venue for the purchase and sale of equipment, highlighting the newest and cleanest materials or making available locations to drop off unwanted gear, Rerip.com is part of the solution for end-of-life issues in the surfboard industry.