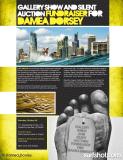 Last month Damea Dorsey had an unfortunate motorbike accident while on assignment in Indonesia. It mangled his foot, breaking it four places, and was serious enough that he was flown to Bangkok, Thailand for surgery. Two operations, a week-long stay in the hospital, and thousands of dollars later, he's back home in the US. This event is to help raise money to pay off some of the medical bills he incurred from the accident.

This will be the first time Damea has featured his work at a show since he started his career as a photographer seven years ago. On display with be an impressive range of imagery captured on trips to exotic locations such as Tahiti, Australia, Japan, Indonesia, France, Spain, the Canary Islands, Hawaii, South Africa, Mexico, Scotland, Ireland, Peru, Switzerland, and at home in California.

Beautiful imagery makes you feel good, and it raises the mass aesthetic. Even better, purchasing some of these incredible photos will help Damea pay for his substantial medical bills, so you can feel good while doing good.
Hope you're able to attend.
111 Chesterfield Dr, Ste. 119
Cardiff, California 92007
--
Damea Dorsey Photography
dameas@gmail.com
http://www.dameadorsey.com
+(760) 822-4099 cell