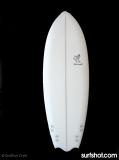 5'4'' x 19.75'' x 2.25'' or custom

we are taking you in a new direction from the retro fish with our new bat-round tail. It is a twist on an old theme. This model is set up with a four fin design. Fast smooth long or short lines you decide. This design is you next board in your fish quiver

Order One and Watch your Surfboard get Shaped..