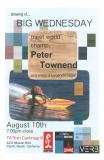 FATfish Catina Grill and VERB presents the showing of the classic surf film Big Wednesday with a meet and greet with the 1st World Champ of Surfing Peter Townend.
Wednesday August 10th at:
FATfish CatinaGrill 4474 Mission Blvd. Pacific Beach, CA 92109
7pm - close
Come down and listen to Peter Townend talk about what it was like making the movie and doing the surfing stunts.  Find out what is was like to be a part of one of the biggest surf films of all time.