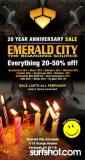 San Diego, CALIF -- February 22, 2008. Emerald City founders, Larry and Kelly Kraus, are celebrating twenty years of their family-owned business by offering 20-50% off on all merchandise. Based in Coronado, the board shop has slashed prices on men and women's apparel, wetsuits, accessories and surfboards.
Emerald City co-founder, Larry Kraus, considers the anniversary sale a chance to give back to his dedicated clientele. "As an industry leader, Emerald City is proud to have been in business for over twenty years," says Kraus. "Our customers have shown their support by making this business an influential name in action sports."
As one of San Diego's pioneer surf shops, Emerald City has teamed up with leading brands like Quiksilver, Billabong, Rip Curl, Vans and O'Neill. Front window sale items include Nixon watches, Circa skate shoes, Al Merrick surfboards and Spy sunglasses. Many top-name boards are being offered at $200 off retail price.
According to Emerald's General Manager, Marco Perez, the goal of the sale is to show gratitude to those who have supported the shop over the years. "Many customers drive from the other side of San Diego County just because they appreciate what our store has to offer," says Perez. "We are a core store and not a mall shop. Our team offers customer service that is extremely professional, unlike a lot of the surf shops that tend to be too 'bro'd out.' Rather than the usual impersonal, corporate mentality, Emerald City brings authenticity to the table.
Launched in 1988, Emerald City first gained recognition for its punk-music industry parties, which often drew over 2,000 fans to its annual events. In 1992, company growth resulted in the expansion of the store's present location on Coronado's Orange Avenue. Now, twenty years after its inception, Emerald City remains committed to the industry in offering quality merchandise and friendly service.
Kelly Kraus adds, "We anticipate that the next twenty years will be just as successful, if not more so, than the last."
For more information, contact Emerald City at 619-435-6677