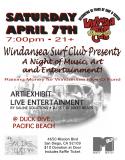 WINDANSEA SURF CLUB - A NIGHT OF MUSIC, ART AND ENTERTAINMENT
LA JOLLA, CA – The Windansea Surf Club's youngest generation is taking over a new venue, Duck Dive, for a night of music, art, and entertainment April 7, 2012 starting at 7 pm. This event will raise money for the Windansea Five-0 fund, which will benefit community service organizations. The club will celebrate its 50th Anniversary in 2013 and plans include an exhibit of historic memorabilia and a luau to celebrate the historic victory at the International Surfing Championships at Makaha in 1963 with Duke Kahanamoku supporting the Team.
The San Diego surfing community is invited to celebrate the deep surfing roots and build on the foundation of Windansea glory since the 1960s. From surfboard shaper Skip Frye and Pipeline surfer Butch Van Artsdalen, to big wave surfer Derek Dunfee and 2x women's world champion Jen Smith, the Windansea Surf Club is a non-profit organization with active members from every generation in the sport.
The new venue, Duck Dive, will be hosting food and drink specials, live music by "The Saline Solutions" and "Mikey Beats," a raffle, and artwork on display. Bring your $10 donation and help support the San Diego surfing community!
Duck Dive
4650 Mission Blvd
(Corner of Mission Blvd. and Hornblend)
San Diego, CA 92109
21+ with valid ID
For press inquiries please contact:
Samantha Roper