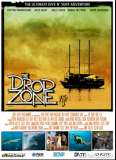 The second installation of the award-winning Drop Zone Series, Drop Zone: Fiji will be showing at the 12th annual Newport Beach Film Festival, May 2nd at 7pm at Triangle Square 5 (1870 Harbor Boulevard in Costa Mesa).
The Action Sports Film Series highlights actions sports and its athletes, and follows them as they push the limits of their respective sports in some of the most far-flung regions of the world. Drop Zone: Fiji produced by Body Glove, PADI, Air Pacific, Sport Diver Magazine and TransworldSURF and featuring Holly Beck, Cheyne Magnusson, Alex Gray, Maria del Mar and WCT surfer Bede Durbidge, is a perfect fit. Four world-class surfers-turned-divers set off on an adventure as they travel the south pacific. The crew heads out in search of pristine dive locations and chase down some of the most epic surf on the planet. They head to Tavarua to surf the world famous Cloudbreak and SCUBA dive with bull sharks, vibrant fish, and friendly turtles. The lush environment provides rich entertainment and spawns an unlikely new duo. Through this remarkable journey, the crew gets to know the true Fijian culture by interacting with the islanders as well as the environment they have truly come to appreciate. Join Body Glove's Cheyne Magnusson, Holly Beck, Alex Gray and filmmaker Greg Browning at the premiere and answering your questions afterwards.
To purchase tickets and for a complete listing of movies showing at the Newport Beach Film Festival 2011 Action Sports Film series go to http://www.nbffACTION.com/.
For more information on Body Glove and its videos go to www.bodyglove.com and visit the www.facebook.com/bodyglove for daily updates.