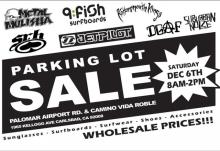 We're getting together with our neighbors this Saturday, December 6th for a big friggin' Parking Lot SALE. Jetpilot, Metal Mulisha, SRH, 9:Fish, Billabong, Sticky Bumps & more!!! One of a kind samples and tons of other stuff.... Come get some! See you there.
When: This Saturday, December 6th. From 8am - 2pm!!
Where: 1965 Kellog Ave, Carlsbad, CA 92008
It's only for 6 HOURS so get there early and make it happen folks....