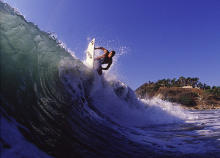 Location: Mainland Mexico/ 30 miles north of Puerta Vallarta
Experience Costa Azul Adventure Resort….an exotic adventure destination in mainland Mexico. Nestled along the tropical coastline of the Mexican Riviera, Costa Azul's boutique style resort is secluded and surrounded by tropical flora, white sands, and lush jungle. The resort was purchased in 1991 by a young surfer and adventure enthusiast who made it his dream to transform Costa Azul into a charming tropical paradise. Costa Azul is just 30 miles north of Puerto Vallarta in the small town of San Pancho- where local culture and flavor still thrive.
Costa Azul Adventure Resort is famous for world class year round surf, warm waters and sun, untouched beaches, adventurous excursions, romantic destination weddings, authentic Mexican cuisine and a warm and welcoming staff.
All-Inclusive and Semi-Inclusive packages are priced affordably with unlimited food, drinks and activities included. Costa Azul is family friendly with a daily kids program that allows parents to participate in daily excursions. With 18 beautiful beachfront suites, 6 hillside suites and three private villas, all accommodations have ocean views and private balconies.
Catch the world-class waves of the Nayarit region. With many years of local knowledge, we have a pretty good idea where to find the best surf conditions. If you are a seasoned surfer, you will enjoy the early morning surf trips where our guides map out the best surf and bring you to it by van or boat. Daily surf tours depart every morning at 7:00 a.m. and return between noon and 2:00 p.m. The waves are excellent for both short and longboarding. The average wave size is shoulder to head-high range, occasionally bigger, occasionally smaller, depending on what Mother Nature blesses us with. The water temperature ranges from 72 to 84 degrees depending on the prevailing currents. We have access to a wide variety of surf spots, mostly point breaks, both lefts and rights, from inside the Bay of Bandares north to San Blas. Surf locations include Punta de Mita, Burro's, Chacala, Platanitos, Santa Cruz, Matanchen, Aticama, Stoner's Point and Sayulita.
Come see why Costa Azul Adventure is called the "best kept secret south of the boarder"!
(800) 365-7613
(949) 498-3223
www.costaazul.com