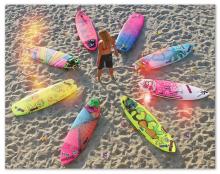 Name: Lola Jade Cimmino but I go by Lola Jade and my friends call me Lola Bomb.
Current Job: Owner, Chick Sticks Surfboards, Chick Sticks Bomb Squad Skateboards, Wikked Surfboards, Chick Sticks Girl by Lola Jade apparel and Chick Sticks Girl Skin Care.
Best part about your job:  I wake up every day excited that my 'job' is something that allows me to create and is something I am so passionate about and believe in. I Love all aspects of working in the Surf and Skate Industry.  I work the longest hours I've ever worked but I've never been happier.
Worst part about your job:   The pressure of having boards done on time, when someone drops the ball it always reflects on me. I can't say there's anything I could classify as bad about my job it's more of a pressure I put on myself to be the best and put out the best quality possible.
How did you get started in the surf industry?  I retired as a former pro athlete and needed a new sport and pretty much took to Surfing right away. I've skateboarded my entire life but never surfed. The two sports are so similar.  I am a perfectionist and love the flashy stuff, so I was trying to learn to surf on the more popular shortboard brands shaped for guys and Id spray paint them up so they looked super sick but they didn't work for me. I'm a really petite girl, 5 feet tall and 105 pounds so you'd think the little potato chip guy boards would float me and work well. Long story short I had a few shapers shape some shortboard customs for me and I experimented with the dimensions and of course painted them up and other girls wanted my boards so I started hooking them up with my shapers but that wasn't the solution to the problem of there not being shapes made specifically for girls. Also sharing my concept that you can learn to surf on a short board, you don't have to be old school and learn on a 8 or 9 foot board. Im living proof and so are my customers. You just have to design a board correctly that works for beginners and girls specifically.  No ones done that before.  I knew I had to start my own surfboard brand, girls needed it!
What advice would you give someone wanting to get into the surf industry? Be prepared to work really hard and not give up.  I know people that started before me and are still doing a lot of talking and on and off again with their ideas and their businesses are still not off the ground.  Its either going to be a fun hobby for you or its got to be treated like a business or it will never happen for you.  You also have to be sure you have a good idea and that it really benefits people. You have to fully go for it and invest yourself in every way and even then there's no guarantee you're going to be successful but at least you gave it your all.
For what other surf/action sports companies have you worked?   Being a former competitive athlete I represented on a professional level as a spokeswoman and Pro Women's Stand Up PWC Racer on the National and World Tour and also gave Media exposure to Yamaha Watercraft, Power Bar, Body Glove, Carbon Tech, Factory Pipe, Mikuni, Venus Swimwear and many other brands in the action sports industry.  The brands I myself have started are the first companies I have worked for as an actual CEO running the company, you could say I jumped right in LOL
If you were not doing what you currently do, what would you do for a living?    That's a tough one. I'm all about competition and striving to be the best. I don't care what other people do and don't compare myself to them, I just want to be the best I can be.  I'm not the type to be sitting around living it up on a tropical island and really doing nothing but being on vacation for the rest of my life so if I couldn't manage my own brands I would LOVE to work for Roxy. Or start my own Roxy, which is basically what I'm doing!  I wear Roxy head to toe most days, it's an Awesome brand and what I strive for my brand to be one day.
What does a typical day or week look like for you in your current role?   Wow, my weeks are never ending. I seriously work 10 to 14 hours a day 7 days a week and I've been on this schedule for the almost 2 years since I started my first brand Chick Sticks.  I wake up at 4:30 am every day even on the weekends, check my emails and take care of any orders that have come thru the night before.  Then I work out, run, hopefully get a quick surf session in and my work day begins.  I have to deal with all the emergencies that crop up, oversea the entire surfboard building process from choosing and then picking up my blanks, taking them to be cut by my CNC Engineer, and then I take them to my shaper, from there to my painter and then my glasser. Every board order is at a different stage in the process at any given time.   Each board gets hand signed by me and I keep my QC really tight.  If the board is not 100% for any reason I keep it for me and my friends to ride and build another one.  I work daily on building out my brands as far as adding new board models and products and also do my own SEO and a lot of social media and have requests for magazine articles and features that keep my busy.  That's one of the great rewards, when people in the industry recognize what I bring to the table with my brands and want to share it with their readers. Really thou, there's not enough hours in the day to ever feel like I'm caught up.  My days are Super Crazy!
10.  Who have you met in the surf industry and thought, "He/She is shorter than I thought?"      That's a great question!  I'm only 5 feet tall so everyone seems pretty tall to me.  I'd have to say that Kelly Slater being the dominating force that he is and I respect him so much as a surfer and role model in the surf industry but I was surprised he wasn't taller.  And on the other end of the spectrum I'd have to say that Bethany Hamilton is way taller than I thought she'd be.
11.   Which surf/action sports company has the best bathrooms?  NONE!! Ok, I think that On a Mission's San Clemente, CA HQ office has a really nice, large bathroom and also Sticky Bumps – Ransom Surf Wax Headquarters in Carlsbad, CA AKA Wax Research has a nice, clean bathroom. It also has a scale, muscle milk and wetsuits hanging in there, just so you know!
12.   Give us some good gossip.  (Depending on the nature, Colony may or may not print it - we are a family-oriented site):   Ah Oh. There's enough rivalry in this industry I have to stay away from the gossip, sorry boys. ; ) Gotta keep the Good Karma going.
13.   What is your favorite surf-oriented blog?  I really keep up on industry news thru Facebook and my industry connections there. I like to read what's going on when I go to Surf Line and check the Surf Report so that's a favorite source for me.
14.   Regular or Goofy foot?   Regular Baby! Rights all day. haha
Which non-surfing historical figure would you think would make the best surfer?  I am all about Girl Power so Id say Zena Princess Warrior because she would look beautiful and kick some butt haha but as far as a real person I'd say Cleopatra for the same reason beautiful lady who wouldn't take getting dropped in on lightly and wouldn't take any crap from the boys LOL
17.   For what would you like to be remembered when you are gone?   I want to be remembered as a genuine person who was generous and who made a real contribution to others on both a personal and professional levels. I want to be remembered as a really smart woman with determination and fire but also having a softer side that was silly and loving and a real person, not putting on a fake persona. I hate fakes! I've been described as the Elle Woods of the Surf Industry.  That's ok with me too.  = D
Best perk of working in the action sports industry?  The people I get to meet and learn from.  Being able to meet the owners of the brands that I really respect is so amazing.  There's just something about sports that always attracted me.  I know I look girly but I am definitely an active tomboy and have been involved in sports all thru high school and college and after as a pro athlete. I can tear it up on dirt bike, quads, three wheelers and do cookies and scratches in my car as good as any guy.  And you'd never know that to look at me.  But the best perk is working in an industry that I can really relate to and stems from a competition as well as a healthy and active lifestyle.
19.  Anything else you would like to add about the surf industry? life? breakfast burritos?      Living in Southern California Surfing is so much just a part of the Culture.  If you're lucky enough to live at the beach like I am you can't help but appreciate the surf culture and the unique group of people that make it what it is.  The Surf Industry is a weird bunch thou, surfing and that stay laid back lifestyle comes first.  There's a few people only out for themselves but you get that in any industry, for the most part it's an accepting culture. As far as life, hey you only get one shot if you don't go for your dreams and figure out why you are here and how you can leave the world a better place what's the point?  Breakfast Burritos.  I can't eat a lot before my runs or morning surf so when I'm done I am absolutely starving. My fave is scrambled eggs, cheese and tator tots wrapped up in a flower tortilla and then grilled.  That's the Lola Breakfast Burrito and it's offered at the Bull Taco Café in Oceanside, CA where my Chick Sticks Board Room is.  This was a really fun interview and I appreciate you sharing me, thanks Colony!! XO Lola Jade
Lola Jade
(760) 908-8600
'Like' my Facebook Surf page: https://www.facebook.com/ChickSticks
'Like' my Facebook Skate page:  https://www.facebook.com/ChickSticksSkateboards
Twitter: @chicksticksgirl
Instagram: chicksticksgirl