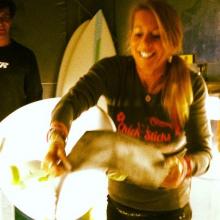 Chick Sticks Founder Lola Jade, the Local Oceanside Girl behind this highly successful Girl Power Brand is Learning to shape surfboards from the Best.  And that would respectfully be Innovative JHP XTR Shaper and World Champion Surfer Javier Huarcaya Pro.  The XTR Epoxy Pro Factory is a full factory where blanks are assembled on site with a work horse 3DM 3 Axis 4 hp CNC Machine Milling full time, two on site glass shops, shaping, finish and show rooms and is the full time factory for Lolas brand with Javi being the master shaper behind the Chick Sticks shapes.  The XTR Team has taken Lola under thier wing involving her hands on in all aspects of the manufacturing process of her boards and  'shaper' can now be added to her list of credits.
Reflecting on the last few months Lola says, 'Shaping is so much Fun.  Obviously it isnt anything you can learn or perfect in just a few months.  But I have a natural feel for it and Javi is the Best as far as Im concerned and his attention to detail has really rubbed off on me'.
Recently the Bring Your Own Board Orange County Television Series captured Lola in action.  After picking out her blank it was expertly milled to specs by XTR CNC Engineer and Brand Manager for the Factory, Dane Hantz.  The film crew then shot the entire process of Lola finish shaping a Chick Sticks Little Screamer from start to finish.
'I love the depth that knowing how to shape gives me because I already know every inch of my Chick Sticks brand board models but now I have that intimate feel of a rough blank becoming MY Shape.  Its the coolest thing, really.' adds Lola.
Chick Sticks Surfboards offer serious performance for girls and have gone thru major refinement since the brand moved to the XTR Epoxy Pro Factory.  The Girl Friendly brand offers a full 9 board line up of poly boards to suit every level of surfing from grom thruster to long board and even two models of SUP's.  The Launch of the super charged ultra agressive Pro Series line boasts 7  XTR Stringerless Epoxy board models and is set to debut next month (February 2013).  XTR shapes only the top brands and this is a girls line you can take seriously.  Check out Chick Sticks at www.chicksticksbylola.com Contact Lola at (760) 908-8600 or chicksticksgirl@aol.com