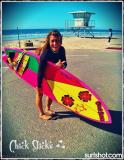 http://www.byoboc.com/chicksticks/
Bring Your Own Board Orange County Television Series
Chick Sticks – The Shapers of Girl Power
When you see a girl ripping it on a gnarly wave, turn around and look again. The neon colors of the female surfing brand Chick Sticks is taking over the surf & skate scene all over Southern California. Revolutionizing the action sports industry with surfboards and skate boards that are designed for the female rider, Chick Sticks is the answer to the female presence in the board sports industry.
Chick Sticks founder Lola Blake gives us a first hand look into how Chick Sticks has gone from a life passion into a revolutionary "Girl Power So Cal Surf Skate Lifestyle."
First off thank you to BYOB Bring Your Own Board Orange County for recognizing female Shapers and a girl Brand and for sharing my story.   I'm Lola and I'm the Chick behind Chick Sticks.  Chick Sticks is a brand of Surf and Skate boards for Girls that combine super high performance shapes with girl friendly attributes and high end one of a kind graphics designed by yours truly.
I was born and raised in Southern California and have always been into Skateboarding and competitive sports.  I Love the beach, I love the ocean and I love being a tomboy.  My skate background has really influenced my surfing as far as how I want my boards to handle and Skateboarding and Surfing are so similar so when I got in to Surfing I was instantly hooked.  I think it's a sport that you're either into or you know it's not for you.
Everyone told me to get a 9.0 longboard to learn on.  I'm five feet tall and petite so nothing about that was fun for me.  Then an 8.0 Costco foamie crossed my path but with my athletic background I really wanted to learn to surf on what the guys were riding which were super maneuverable short boards.  So like any newly fired up Kook I started buying anything and everything that was 6.0 and smaller and painting them and naming them.  I was a Kook with great taste.  I loved anything Al Merrick and of course …Lost.  When Super came on the market I was just so Stoked about their shapes and graphics.  Those three brands set the standard for me.  The problemo was I had a lot of cool looking boards but nothing was really working for me.
So I started having customs made, my first was shaped by Greg Sauritch and was a 5.9 fish.  That was the board I learned to surf on and I surfed it until it delammed and was waterlogged.   To this day I am a diehard Quad Fin girl because of that board.  I Love how they handle and I love the speed.  That board took me from whitewash to open face but was still hard to duck dive with all those fins.  So I had a few other shapers shape customs for me and I just kept tweaking everything until the dimensions and shape and everything felt right.
I experimented with an egg shape after riding one that belonged to my then surf instructor.  My Hoochie Mod five fin option performance egg is now one of my best sellers.  Other girls were digging my custom boards I was having made and one thing led to another. Really, Chick Sticks was never intended to be a business it literally became one because other girls wanted boards like mine and I decided to quit my job and just go for it and create a brand for girls.
I faced a lot of adversity with people not being open to a market for girl's boards. And others not wanting to help me in case I potentially took away from their business.  I financed everything myself but I was careful and safe solely working from my profits.   Even today I still continue to work from my profits.  I made my first demo set January 2011 but didn't have a website and wasn't really functioning as a company until late summer that year.  I do anywhere from 25 to 35 customs a month now.  Which is crazy.  I remember when my biggest month was 7 boards and how incredible that felt.
I'm finally to the point where I recognize the value of capital to get the brand to the next level and to the international market place and that's one of the things I am focusing on this year.  I wanted to do bikinis and apparel last year but wasn't ready.  This year I have a bikini designer I'm working with and the brand is more refined so my ideas are better so my Chick Sticks Girl Apparel is off the shelf and on the cutting table so to speak.  I'm excited about that.
Chick Sticks has become a full on Girl Power So Cal Surf Skate lifestyle and I love that.  And it's more than sick looking boards that work for girls and the concept of learning to surf on a shorter board and the value of multiple fin options.  Every girl is welcome in the Chick Sticks Girl Power club.
My Team Riders are the best, I have the most amazing girls surfing and skating my boards and working with me and I feel very fortunate.   I really think its so old school to say that everyone has to learn to surf on a long board.
Now there's a choice for girls, I put girls on my 5.10 Vixen and Hoochie Mod's all day long and they are surfing short boards in the whitewash and easily transitioning to open face waves quicker and enjoying the process more.  Over time I've expanded from shorty's to learn on to a true performance competitive thruster, a fun shape, my 5 fin option mini longboards and a traditional 9.0 longboard with the girl friendly tweaks.  I am Stoked I took the risk starting a brand for girls.  People tell me all the time that I am paving the way for other girls in the surf and skate industry and that's a huge compliment.
The best move I made for my brand was hooking up last year with Dane Hantz, XTR Brand Manager and CNC Engineer and Javier Huarcaya World Champion Surfer and Shaper at the XTR Factory in Oceanside. 
Dane designs and also refines board programs, Javi is a master craftsman shaper with an attention to detail and working together the end result is perfect.  XTR is the premier ultra-high performance factory on the West Coast and Dane has brought my board programs to the highest level and we've recently added some new shapes that I am so stoked about.
I have my original 'poly' performance line which includes my Shred Betty grom thruster, Little Screamer performance thruster, Vixen five fin option fish, Hoochie Mod five fin option egg, Hoochie Mama tri fin fun shape, Bad Betty 5 fin option mini longboard available as a 7.0 and 8.0, Starlette 2 plus 1 8.6 Mini Mal and 9.0 traditional performance longboard.  My Sea Goddess Stand Up is being developed and will launch this spring.  It's a smaller SUP also offered in a grom size and continues the concept of smaller easier to handle boards for girls.
My highest performing shapes, Little Screamer, Vixen and Hoochie Mod along with two super fun retro style quad fin planing hulls Cherry Bomb and Lolita Loco are offered in my Pro Series and all the shapes have undergone super intense tweaking by Dane.
The Chick Sticks XTR Pro Series are the lightest, toughest stringerless epoxy surfboards on the market.   XTR blanks don't take in water and Dane put channels in the decks for me so they are super responsive and it's just mind blowing to me girls can get these kind of boards under their feet that are so high performance and have the perfect amount of foam and dimensions that are designed to work for a girl's body and size .
It's just so cool to get to a place where I essentially started from when I was growing up but now I'm the one designing surfboards and skateboards.  It's really crazy how things come full circle in life.  I'm just so Stoked to be doing what I'm doing.  I work 10 to 14 hours a day, 7 days a week and no joke I haven't taken a day off for over a year.  I surf less now that I work in the industry than before but that's changing this year.
I'm established enough now so I feel I can take time away and get a session in.  And my soul needs it.  I Love what Chick Sticks stands for, I love that they are USA Made and I Love what I do.  And I really want my claim to fame to be the highest quality performance Surfboards modified for girls that truly perform and look sick with full board art that's original and edgy.   Just put that on my tombstone and I can die happy. LOL
Chick Sticks
USA Made Performance Surfboards
Oceanside, Cali USA
Lola Blake
www.facebook.com/ChickSticks