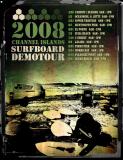 Channel Islands Surfboard Demo Tour ::
We will be launching our 2008 Board Demo Tour April 26th in Cardiff, San Diego. Come down to your local beach and test out our 2008 freshly released surfboard models. Along with the tour we will have unreleeased designs shaped by Al Merrick and tested by Rob Machado to ride. With your input you can help decide which one of these prototype boards will become a part of our line 2009 surfboard line...
Look forward to seeing you at the beach!
4/26 Cardiff / Seaside 9AM - 1PM
5/3 Oceanside, S. Jetty 9AM - 1PM
5/24 Lower Trestles 9AM - 1PM
6/7 Huntington Pier 9AM - 1PM
8/23 Pismo Pier 9AM - 1PM
9/13 Pleasure Point 9AM - 1PM
9/27 Ocean Beach 9AM - 1PM