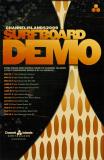 ATTENTION SURFERS !!!!
CHANNEL ISLANDS SURFBOARDS ARE COMING TO PONTO JETTY.
COME DOWN & SAMPLE SOME OF CHANNEL ISLANDS LATEST SURFBOARD MODELS BY AL MERRICK.
SATURDAY MAY 23RD FROM 9AM TO 1PM.

TEST ALL THE BEST SHAPES CHANNEL ISLANDS HAS TO OFFER FOR SUMMER.
EVERYONE IS WELCOME. COME DOWN AND MEET OUR CREW.

THANKS AND SEE YOU THERE.
CHANNEL ISLANDS CREW