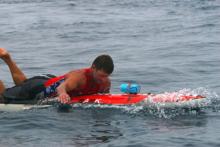 CATALINA CLASSIC PADDLEBOARD RACE RESULT
Southern California, August 24th, 2008, 6 am - the sun rose on Isthmus Harbor, Catalina Island, and the largest field of competitors ever assembled for the Annual Catalina Classic Paddleboard race. At the finish line, it would be Watermans team rider and San Diego Life Guard, Mike Carr, taking 1st place in the stock division and 14th overall, over coming 21 of the worlds most elite paddleboards and finishing in near world-record time.

The Catalina Classic has become known as the Worlds greatest endurance paddleboard race. Other races areas long, but none more grueling, with paddlers forced to deal with cross swells, wind, changing currents, and the occasional shark. This year was no exception, shark included. The racecourse runs 32 miles,beginning at Two Harbors, rounding the R10 off Palos Verdes, before finishing at the Manhattan Pier. Two Thousand and eight saw the largest competitive field in history, with 99 registered paddlers vying for their place on the coveted perpetual trophy. Racers are given nine hours to complete the course, but only the top two in each class earn a place on the winner's hardware.
The race started in favorable conditions slightly before sunrise on Sunday morning. Overcast conditions kept things cool and a light southerly wind put a texture to the surface and provided a push for the Paddlers as they left the island in there wake. Conditions would hold throughout the morning and the Stock leader pack, consisting of Mike Carr, Brian Szymanski, and Tito Bourget, were neck and neck as they rounded the R10. It was Watermans' Carr who would break away from the pack and place first in the stock division and 14th overall, with a time of 5:57:35, beating Szymanski by one minute and Bourget, paddling in his first crossing, by almost five. Other notable finishes were Jo Ambrosi, who placed first in the Women's and 5th overall for the stock division, and Chad Carvin, 1st in Unlimited with a near record-breaking time of 5:04:16.
Arguably the most notable aspect of Carrâs win was his choice to paddle Stock. Unlike unlimited boards, which are longer and faster, Stock boards are shorter and less efficient, standardized to 12 in length and 20 lbs. Why would someone choose to use a less efficient and typically slower board in such a long race? "I always felt like (Unlimited) was cheating, says Jay Scheckman, City of Coronado Lifeguard, fellow Watermans teammate, and 7th place stock finisher. Scheckman, whose time of 6:18:34 was impressive, was nonetheless disappointed with his finish and vowed to return next year for a shot at the title. really happy, said an exhausted Carr as he waited to congratulate the remaining competitors reaching the sand.
Please join Watermans in congratulating Mike and Jay on their amazing accomplishments. Thanks to all the Event sponsors, whom without this race would never be possible: Honolua, Bud Light, Bark Ocean, Joe Paddleboards, Body Glove Wetsuits, KROQ, The Jimmy Miller Foundation, Dakine, The Downtown Manhattan Beach Business Association, Paddleboard.com, The LA County Lifeguards, Sangria Restaurant in Hermosa Beach, Spyder Surfboards, and Zen Del Rio.