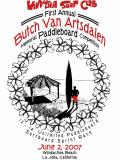 The Windansea Surf Club will be hosting the 1st Annual Butch Van Artsdalen Memorial Paddle Competition on June 2, 2007.
The event will feature a paddleboard race (12ft, 14 ft stock, Unlimited Paddleboards, Grand Masters 50+yrs and Women's paddleboard divisions) as well as a longboard sprint competition. Top Paddleboard competitors will race the 11 mile course starting from Windansea Beach to a race buoy just North of the S. Mission Bay Jetty and then back to Windansea.
The 1st Annual Race becomes a part of "Waterman Series" training races leading up to the Catalina Classic in August (www.catalinaclassic.org). While the paddleboard competitors are on course, a longboard paddle race will run from Big Rock to outside Windansea to Simmons and back. Awards and Beach BBQ will follow the conclusion of both events.
For official entry forms, which include race start times and event details, visit Mike Eatons Paddleboard Events Calendar at: http://www.eatonsurf.com/Events.htm

Or visit the Windansea Surf Club website at: http://www.windanseasurfclub .org