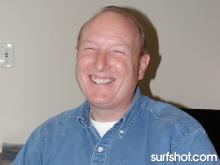 THIS GIVEAWAY HAS BEEN AWARDED
We are no longer accepting entries for this giveaway. Please look for recent giveaways in our Giveaways Page.
To learn more about
Tim Bessell Surfboards
, the sponsor of this giveaway,
click here!
We were almost giving up trying to contact Mike. Geee, we sent this guy 4 emails and got no reply! We were almost selecting a different winner when Mike called Surfshot regarding his membership renewal as he was having problems updating his credit card information on our system.
Lucky Mike that not just renewed his membership and will be able to score more surf in 2004 but also ended up getting his custom shaped blank prize from this giveaway sponsored by Bessell Surfboards.
This is what Myke had to say:
Surfshot: How excited are you now?
Mike: Very excited about winning the board. I never won anything this large before in my life.
Surfshot: Any words to share with the SD?
Mike: Surfshot is an excellent site for your local surf information. I highly recommend for anyone surfing in the San Diego area.

All right, thanks for the Kudos Mike and have fun while meeting Tim Bessell and ordering your next brand new board!