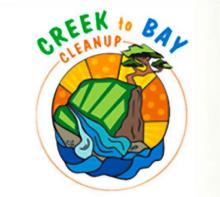 Interested in volunteering, giving back to your community, and improving the natural environment here in San Diego? April is Earth Month and I Love A Clean San Diego is celebrating by hosting the 6th Annual Creek to Bay Cleanup, presented by the San Diego County Board of Supervisors through the support of Supervisor Pam Slater-Price and Supervisor Greg Cox. Take pride in your city by joining fellow volunteers on Saturday April 26th from 9am to 12noon as we comb beaches, bays, parks, canyons, and urban areas.

To learn more and signup visit http://www.creektobay.org/

Event is tomorrow, Saturday, April 26th, between 9am and noon.

Here are the clean up locations:

North County Coastal

Cardiff - San Elijo State Beach
Cardiff - Swami's Beach
Cardiff State Beach
Carlsbad - Frazee Beach
Carlsbad - Ponto Beach
Del Mar - Powerhouse Park
Encinitas - Moonlight Beach
Leucadia - Beacon's Beach
Oceanside - Buccaneer Beach
Oceanside Pier
Solana Beach - Fletcher Cove


Zone 2

De Luz - De Luz Creek (2 sites)
Escondido - Dixon Lake
Escondido - Lake Hodges
Oceanside - Loma Alta Creek (3 sites)
Penasquitos Canyon Preserve - MEDIA SITE
Ramona - Santa Maria Creek
Ramona Community Park
San Dieguito County Park


Zone 3

Balboa Park - Florida Canyon
Golden Hill - Juniper Canyon
La Jolla - Windansea
La Jolla Shores
Maple Canyon
Mission Bay - Santa Clara Point
Mission Bay - South Shores - **SITE FULL as of 4/23/08 - Please register for another site**
Mission Beach Jetty - South Mission Beach - **SITE FULL as of 04/21/08 - Please register for another site**
Normal Heights Canyon
North Park - 32nd Street & University Avenue
Ocean Beach - Dog Beach
Ocean Beach Pier - Veteran's Park
Pacific Beach - Rose Creek
Pacific Beach - Tourmaline - **SITE FULL as of 4/23/08 - Please register for another site**
San Diego River - Fashion Valley
San Diego River - Mission Valley Preserve
Serra Mesa
Sorrento Creek


Zone 4

Chollas Creek - 33rd Street
Chollas Creek - 47th Street
Chollas Creek - Earthlab
Chollas Creek - Lemon Grove
El Cajon - W. Palm Ave. and Millar Ave.
La Mesa - University Channel
La Mesa, Alvarado Channel
Lakeside - Los Coches
Lakeside Linkage Open Space

Zone 5

Bonita - Morrison Pond County Park
Chollas Creek - Barrio Logan
Chula Vista - D Street Fill
Chula Vista - Del Rey Canyon
Chula Vista - J Street Marina
Chula Vista - Otay Valley Regional Park
Chula Vista - Rice Canyon
Coronado - Coronado City Beach
Coronado - Silver Strand State Beach
Dairy Mart Road, West side of I-5
Imperial Beach - Imperial Beach Pier
National City - Paradise Creek
San Ysidro


Coastal Sites

Cardiff - San Elijo State Beach
Cardiff - Swami's Beach
Cardiff State Beach
Carlsbad - Frazee Beach
Carlsbad - Ponto Beach
Del Mar - Powerhouse Park
Encinitas - Moonlight Beach
Leucadia - Beacon's Beach
Oceanside - Buccaneer Beach
Oceanside Pier
Solana Beach - Fletcher Cove
La Jolla - Windansea
La Jolla Shores
Mission Bay - Santa Clara Point
Mission Bay - South Shores - **SITE FULL as of 4/23/08 - Please register for another site**
Mission Beach Jetty - South Mission Beach - **SITE FULL as of 04/21/08 - Please register for another site**
Ocean Beach - Dog Beach
Ocean Beach Pier - Veteran's Park
Pacific Beach - Tourmaline - **SITE FULL as of 4/23/08 - Please register for another site**
Chula Vista - D Street Fill
Chula Vista - J Street Marina
Coronado - Coronado City Beach
Coronado - Silver Strand State Beach
Imperial Beach - Imperial Beach Pier

Inland Sites

De Luz - De Luz Creek (2 sites)
Escondido - Dixon Lake
Escondido - Lake Hodges
Oceanside - Loma Alta Creek (3 sites)
Penasquitos Canyon Preserve - MEDIA SITE
Ramona - Santa Maria Creek
Ramona Community Park
San Dieguito County Park
Balboa Park - Florida Canyon
Golden Hill - Juniper Canyon
Maple Canyon
Normal Heights Canyon
North Park - 32nd Street & University Avenue
Pacific Beach - Rose Creek
San Diego River - Fashion Valley
San Diego River - Mission Valley Preserve
Serra Mesa
Sorrento Creek
Chollas Creek - 33rd Street
Chollas Creek - 47th Street
Chollas Creek - Earthlab
Chollas Creek - Lemon Grove
El Cajon - W. Palm Ave. and Millar Ave.
La Mesa - University Channel
La Mesa, Alvarado Channel
Lakeside - Los Coches
Lakeside Linkage Open Space
Bonita - Morrison Pond County Park
Chollas Creek - Barrio Logan
Chula Vista - Del Rey Canyon
Chula Vista - Otay Valley Regional Park
Chula Vista - Rice Canyon
Dairy Mart Road, West side of I-5
National City - Paradise Creek
San Ysidro