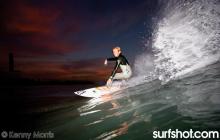 It's official. San Diego parks and beaches will be smoke free after July. On the surface it may seem like an ultra-restrictive, pointless law, but this is great news for surfers. This ban will reduce the biggest single source of litter at our beaches.
The San Diego City Council voted on July 11, 2006 to approve an ordinance that would make it illegal for anyone to light-up in "Smoke-Free Zones" at a variety of locations including Balboa Park, Mission Bay Park and all city beaches between Torrey Pines and Point Loma. Anyone caught violating the ban probably will get a warning but could get slapped with a fine starting at $250 or be charged with an infraction or a misdemeanor.
Other cities with smoke-free parks or beaches include Solana Beach, Del Mar, El Cajon, National City, Imperial Beach, Manhattan Beach, Santa Monica, Newport Beach, San Francisco and Santa Cruz.
On top of that, smoking is already prohibited on most school campuses and at hospital sites, as well as in stadiums such as Qualcomm and Petco Park. It's also banned within 25 feet of children's play areas or within 20 feet of an entrance or exit to any state, county or city building. Do you think there is a message here for smokers?
THE BUTT BAN AND SURFERS
As surfers, second-hand smoke at the beach doesn't pose a major health hazard because we spend most of the time in the ocean, not sunbathing on the beach with hundreds of puffing tourists during summer.
The REAL issue is litter. TONS OF LITTER!
We love surfing because we can connect with and enjoy the amazing and beautiful coastlines and Ocean of San Diego. But when you look closely, you can see trash scattered in the sand, which not only looks bad but it poses dangers for wildlife and for humans. Most of the litter you will find is cigarette butts.
It is estimated that cigarette butts account for 50% of all beach litter and at this year's Sun Diego Morning After Mess July 5th Beach Clean-Up, over 140,000 cigarette butts were recorded as picked up off the beach. In one morning! That is only on the surface! There are probably millions more a few feet down that will never be picked up.
As cigarette butts decompose (they do not biodegrade) they release chemicals that contain properties similar to those found in pesticides. The long list of chemicals found in tobacco are also leached into the sand and ocean we surf in, thereby exposing us to pollutants we cannot see or smell.
Although a cigarette butt might seem small and insignificant, there are millions of butts a year disposed of on San Diego beaches that add up to an unknown amount of pollution going into the sand we walk on and in the water we surf in.
No tests have been done to measure the amounts of those pollutants or the effects they could possibly have on humans but what this smoking ban will do is reduce whatever threat to our health there is.
SURFRIDER' S FIGHT AGAINST BUTTS
The success of the effort to reduce cigarette litter is directly that of the efforts from the San Diego County Surfrider Foundation. Surfrider San Diego initiated the "Hold On To Your Butt" campaign. They made t-shirts, stickers and brochures describing the evils of cigarette butts and they hit the streets.
Hold On To Your Butt Day has become an annual event where volunteers stand at intersections protesting people who toss their butts out of their cars. The media coverage of this protest and the overall campaign caught the attention of other environmental organizations that quickly adopted their own fight against the cigarette butt and additionally second hand smoke. The combined efforts of these organizations along with smoking bans in other cities up and down the California Coast ultimately led to the San Diego City Council adopting their own smoking ban.
However, Surfrider realizes that this ban is not the ultimate solution. The additional problem is that storm drains empty out onto beaches throughout San Diego. People who toss their butts out of cars and on the sidewalks have a direct impact on beaches because when water flows down the street, it washes butts onto the beach via those storm drains.
That is why Surfrider San Diego is stepping up efforts to strategically place ashtrays in high pedestrian areas and in front of all restaurants and bars where everyone congregates to smoke outside. Also, they have made personal ashtrays to hand out to smokers so they can dispose of butts in their Surfrider canister and dump it in a trashcan instead of dropping it on the ground. The personal ashtrays are pocket-sized and shaped like an ass so they feel good to carry!
For the Surfrider Foundation, the originators of the "Hold On To Your Butt" campaign, this smoking ban is just another hurdle that has been jumped in the effort to prevent people from polluting.
AUTHOR'S TAKE ON IT
Of course, smokers are up in arms about banning smoking in outdoor areas. And, on the surface, some arguments may seem legitimate. The main points from people against the ban are:
- Not effective because it won't be enforced;
- Too restrictive because it is an open-air environment and smokers should be allowed to smoke there;
- Turn away tourists.
My personal response to those lame arguments is:
- The campaign and signs will educate people about cigarette litter and second-hand smoke;
- Gives the non-smoker the ability to tell someone not to pollute their personal air space with chemicals and cigarette stank;
- More tourists will see it as a better reason to come to the beach because it wont smell like ass and their kids won't pick up the butts and eat them.
For years litter laws have been ineffective because most smokers do not consider butts to be litter. Now people who don't smoke are doing something about years of having smoke and litter forced upon them and the natural areas they enjoy.
For too long smokers have viewed the beach as one big ashtray and see the ground as an acceptable place to dispose of cigarettes. I want to smell the ocean, not the stench of burning chemicals. I want to experience San Diego's beautiful natural environment without the constant reminder of inconsiderate people trashing it.
Even though the ban might never lead to a single ticket, it will make smokers think about the issue of cigarette litter and smoking's social considerations. And if it will make one smoker change their mind next time they want to light up, then I think the ban is worth it.