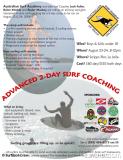 Australian Surf Academy Presents a 2-DAY ADVANCED SURF CLINIC


La Jolla, California, August 9, 2008 – The Australian Surf Academy's (ASA) elite team of surf coaches Josh Fuller, Belen Kimble, and Ryder Mackey will host an advanced surfing clinic for boys and girls. ASA is offering a 2-Day Advanced Clinic for students who are ready to take their shortboarding or longboarding to the next level.

This unique opportunity will take place August 23rd & 24th from 8:00am to 12:00pm at Scripps Pier, La Jolla. Coaching will include video analysis of surf sessions, a written report of analysis, mock contest heats, personal coaching, progressive evaluations for repeat surfers, and take-home training programs. Each surfer will receive an evaluation of their surfing techniques, identify problem areas, target and improve common errors, wave evaluation skills, and competition strategies if required.

The clinic is being taught by three of ASA's paramount coaches and influential members of the surfing community: Australian native Josh Fuller, a veteran of the WQS Tour and the QCC Series is known for excelling in reef breaks and extreme conditions. Fuller has qualified in the finals and semi-finals of world-class contests at Pipeline and in the Philippines, and shares his competition knowledge with his students. Fuller is a Certified Australian Advanced Coach and coaches some of Australia's top Junior ASP surfers.

Ryder Mackey is a local to San Diego with over 20 years of surfing experience. Mackey excelled on the NSSA, USSF, and CIF contest series paving the way for his career as a professional surfer. Mackey has represented some of the surf industry's biggest companies including Billabong and Hurley, and worked with various local shapers to develop advanced board models and equipment.

Belen Kimble has been a professional surfer for 12 years and professional surf coach for 10 years. Kimble has traveled the world as a well­-known surfer and is also a Certified Advanced Australian Coach. She has been featured in countless articles, surf movies, TV news, documentaries and photo shoots and also provides media training to her students.

All participants must be under 20, be able to stand and ride face waves and perform basic surf maneuvers. Surfers should bring their surf equipment, sunscreen, a passion for surfing, and lots of energy. ASA has been La Jolla's premiere surf school for teens since its opening in August of 2000. For more information surf to www.australiansurfacademy.com or call 858-454-8273.