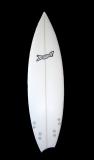 6' x 18.5'' x 2.2'' or custom

inspired by my friend Carl Ekstrom the creator of the original Asymmetrical tail design back in 1966. This designs blends two great concepts together to come up with what I'm call the future of modern surfboards. All I've been riding is my Asym 4 fin. And loving it so much I have let my other boards collect dust. This board gets ***** rating.
To find out more about our boards visit our website.
Watch your board get shaped...