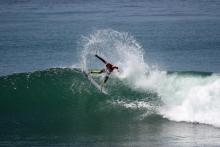 LOWER TRESTLES, San Clemente/California (Monday, April 30, 2012) – The opening day of the 2012 ASP PRIME Nike Lowers Pro will kickoff tomorrow, Tuesday, May 1 and with several of the world's best surfers in the draw and consistent waves expected throughout the waiting period, this year's elite event is set to provide plenty of action.
Held at the iconic pointbreak of Lower Trestles, the Nike Lowers Pro is often claimed as the most progressive event of the season, with ASP Top 34 surfers and fierce up-and-comers both battling it out for the vital points on offer towards their ASP World Ranking at one of the world's most high-performance waves.
Patrick Gudauskas (San Clemente, CA), 26, who is amidst his third year on the ASP World Championship Tour, admitted that the Nike Lowers Pro is one of the events he most looks forward to over the course of the entire ASP season.
"Out of all of the events we have during the year this is definitely one of the ones that I get most excited about," Gudauskas said. "It's always great to surf in front of friends and family and have the hometown crowd behind you."
The San Clemente native has not met his personal goals at the Nike Lowers Pro in the past, but is driven by the lineage of local talent to take out a win at this year's event.
"All of the guys from San Clemente all want to win out at Lowers," Gudauskas said. "Growing up watching the Beschens and Wardo (Chris Ward) rip there has been sick and I really haven't had the results I would have liked at this event in the past. To win it would be amazing."
Brett Simpson (Huntington Beach, CA), 27, grew up just a short drive away from the fabled pointbreak and is motivated to put on a show at one of his favorite waves while watching his fellow competitors push their own personal boundaries.
"Lowers is my favorite wave in the world when it's on," Simpson said. "The wave shape with the softer lip allows you to just push as hard as you can on every turn or air! I really enjoy that, and watching everybody surf out of their minds."
The Californian is looking forward to capitalizing on the comforts that come along with competing close to home, but knows the brutal competition at this year's Nike Lowers Pro will limit his home field advantage.
"There's always that nice feeling of being comfortable at a home event, so yes I feel there's a bit of an advantage, but it is a really good wave so all-in-all it comes down to who is surfing the best in that 25 to 30 minutes! I'm excited to get some heats going out there no matter what and may the best man win!"
Koa Smith (Kilauea, HI), 17, a Nike Lowers Pro Wildcard, is one up-and-comer looking to gain experience in the major men's ASP events and is thrilled at the opportunity to showcase his talents at the upcoming contest while competing against some of his idols.
"The Nike Lowers Pro PRIME event is as exciting as any World Tour event and receiving a wildcard into this event will be life changing," Smith said. "For me, this event will not only being a major learning experience, but also help my seeding into future events. Some of the surfers I've looked up to all my life will be in this event and it will be amazing to compete with them."
Surfline, official forecasters for the ASP PRIME Nike Lowers Pro, are calling for two south-southwest swells to provide consistent surf throughout the entirety of the waiting period.
The Nike Lowers Pro holds a waiting period from May 1 through 5, 2012 and will be webcast LIVE at www.nikelowerspro.com
For additional ASP information log on to www.aspworldtour.com or www.aspnorthamerica.org