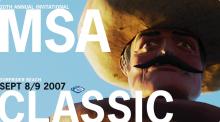 20th Annual MSA Classic a Green Event to Benefit Heal the Bay and The Surfrider Foundation
The Malibu Surfing Association today announced they have renewed their partnership with Heal the Bay and The Surfrider Foundation for the 20th annual MSA Classic contest, September 8 and 9 at world-famous First Point, Surfrider Beach. The MSA Classic directly supports the Malibu Surfing Association's environmental mission to protect Southern California's coastal environment.
The MSA Classic will be the first Coalition of Surf Clubs event to actively reduce its negative environmental impact by adopting a set of green practices, including: sustainable printing, carbon offsetting, onsite recycling, reduced plastic use, and water conservation education. All event proceeds will be donated to Heal the Bay and The Surfrider Foundation.
JOHN DOE LIVE IN CONCERT
legendary member of X

Friday, September 7th / doors open at 8pm / $20
The Malibu Inn (22969 PCH)
all ages

** purchase tickets online ** - click HERE
"The MSA has donated more than $50,000 to environmental groups over the past five years," says Margaret Yao, MSA President. "With help from our sponsors, partners, and supporting agencies, we put on a great event and improve the water quality of Malibu and Santa Monica Bay."
"The MSA has been an extremely generous supporter of our efforts to clean up the chronic pollution at Surfrider Beach," says Mark Gold, Heal the Bay President. "It means a great deal to Heal the Bay to get support from the people surfing in the polluted water year after year. Together, we're finally making progress."
All events during the MSA Classic are open to the public, free of charge. The event microsite can be accessed at msaclassic.com, where surfer profiles, surf forecasts, and exclusive downloads will be available later this month.
Website Links
MSA Classic - msaclassic.com
Malibu Surfing Association - malibusurfing.com
Coalition of Surfing Clubs - surfclubs.org