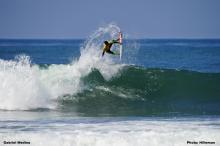 SAN CLEMENTE, California/USA – (Wednesday, June 13, 2012) – Host extraordinaire Sal Masekela will take us to the 2012 Nike Lowers Pro surfing contest this Saturday, June 16 on NBC (1 pm ET/10 am PT) as part of the Red Bull Signature Series. The Association of Surfing Professionals (ASP) PRIME event is held annually at the high-performance Lower Trestles surf break at San Onofre State Park in San Clemente, California. With $ 250,000 on the line, consistently good conditions and the most valuable trophy in surfing (a 14-karat gold railroad spike valued at $ 40,000), the Nike Lowers Pro is always a who's who of the world's top surfing talent.
Now in its fifth consecutive year, the Nike Lowers Pro offers the deadly combination of a high-performance wave and the best surfing talent, both seasoned professionals and up-and-comers, which pushes the boundaries of typical contest surfing. Aerials and other progressive maneuvers are the norm in this event with conditions that typically cater to the highest level of performance seen in contest surfing today. It's not uncommon to see perfect-10 scores.
With a field of 96 competitors, a win at the Nike Lowers Pro is equivalent in ratings points to a third-place finish at an ASP World Tour event. For this reason, most of the World's Elite 34 show up to compete. Past winners have included World Champions Kelly Slater, the late Andy Irons, and the legendary Tom Curren, to name a few.
The last few years have seen a surge in the uprising of young Brazilian talent. Tune in to see highlights from the Quarterfinals, Semifinals and Final, as well as, some of the world's most progressive talent such as John John Florence and 2012 Nike Lowers Pro Champion Gabriel Medina.