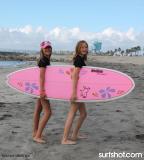 ♥ Catch the Pink Crush Wave & Discover the Fun of Surfing on Surfboards Designed especially for Girls!! ♥ Chick Sticks ~ Find YOUR Board ~ www.chicksticksbylola.com ✿
Chick Sticks by Lola is a company located in Oceanside, Ca that builds Surfboards for Girls. The concept behind Chick Sticks is shorter, wider easier to ride Surfboards designed especially for Girls. These boards are more than catchy names and beautiful paint jobs, you can learn on these boards and that's what's so exciting!!
The Chick Sticks Factory uses only the highest quality blanks, pink stringers, pink glue line with multiple fin set ups to make every shape as versatile as possible. All boards come with Full Paint and Fins. There are 8 board models to choose from and there is something for every Girl!! No one else offers a full line of girls and womens surfboards with girl friendly shapes that you can learn on!!
The Boards: Shred Betty is the perfect first board for the micro Grom and Grom who want to learn in the whitewash and even compete all on the same board. A wider deck and tail offer stability for your little Surfer Girl.
Little Screamer is a performance Thruster geared toward the Girl who wants to compete or has graduated to the smallest and most agressive board in the Chick Sticks line up. Softer nose, wider tail and a little more foam make this a very Girl Friendly Thruster.
Vixen is a 5-fin option Fish that's fun and easy to learn on and ride. Works well in white wash while you learn and shines in open face waves when youre ready. A slimmed down tail makes it easier for a Girl to duck dive.
Hoochie Mod is a versatile 5 fin option egg shape that's as fun in the 2 foot as it is in 8 foot surf. This board is Super easy to paddle and duck dive. With a little extra volume and Girl Friendly shape this board is perfect for the Intermediate Girl who wants to take her Surfing to the next level.
Hoochie Mama. A Poly Fun Board Not Foam!! Learn in style on a board that's so forgiving you can ride this in white wash and then open face as you progress. This is a performance board with a lot of R&D put in to it to make it girl friendly. The pulled in nose and slightly narrower tail allow you to turn and progress on a fun board shape.
Bad Betty is another Chick Sticks Original. It's a 5 fin option 7.0 Mini Longboard. Ride this performance board as a Quad, Tri or Twin Fin. Designed for the Surfer Girl who needs some board under her as shes first starting out. This is the perfect size when you dont want 'too much' board and the extra rocker in the nose helps prevent pearling. I also build the Bad Betty as an 8.0 and 9.0 traditional Longboard as a 5 fin option with a large fin box in the center so you can ride with a traditional longboard fin.
✿ The Chick Sticks Bomb Squad is the Skate Division of Chick Sticks by Lola and features The Bombshell shortboard and Chick Sticks Zombie Rocket longboard ✿ Find it all at www.chicksticksbylola.com or visit my Chick Sticks and Chick Sticks Bomb Squad Facebook pages
Contact Lola chicksticksgirl@aol.com