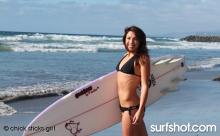 ♥ Fun Stable Fish that you can Learn on!! And its a 5 Fin Option!! Works well in white wash while you learn and shines in open face waves when youre ready. Vixen, the name says it all. Super Hot and looking for Fun ♥
Progressive Narrower Tail EZ to Duck Dive with Plenty of Drive ~ Standard Size is 5'10" x 20 x 2.50 or order Custom Size.  Comes with Full Paint, Fins and Free Shipping.  DANG!!
Go to www.chicksticksbylola.com to order YOURS or Email chicksticksgirl@aol.com with questions....