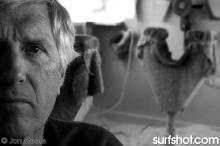 Legendary shapers like Tom Blake, Dale Velzy, and Joe Quigg couldn't live forever. Fortunately, while these shapers were in their heyday, a younger generation was in training. Guys like Rusty Preisendorfer and Al Merrick were just learning the ropes of surfboard design in order to carry on the tradition of surfboard building. But Rusty and Merrick can't live forever either.
It makes you wonder: is there a new generation of shapers that will take their place?
Mica Wood, who is only 24 himself and shapes for G&S, says no. "A lot of old shapers are just fading away," he said. "And there really isn't a new generation that is making surfboards the traditional way."
Wood shapes for the long established G&S Surfboards, after more than a decade of riding for them and working in the factory. After getting his drivers license, he started working for G&S packaging surfboards, putting together fibreflex skateboards, and eventually polishing boards. By working his way from the bottom up, he started to learn the craft of shaping.
But he knows few other young shapers. Among other reasons, he attributes this to the daunting shift to production overseas of pop-out boards, jeopardizing the traditional trade at home. He also says that with pro surfers portrayed like rock stars, it is no wonder why kids aren't wanting to hang out in a factory, sweeping floors. "You ask any kid that surfs what they want to be when they grow up, and they say a pro surfer, not a shaper," said shaper Mica Wood.
Jason Bennett is another young shaper, who was once an amateur turned pro surfer. At 29 years old, he shapes for Chemistry Surfboards. "It is way more glamorous to be sponsored and travel around the world," he said. "But that career is pretty short lived unless you stand out. There are only a few people that get paid to surf after they are 30. You got to look at that too."
For Bennett, he says that being around the shaping environment played a key role in becoming a shaper. Coming to pick up boards from the same shaper since he was 15, Bennett had a connection to the surfboard making process. He got interested in the design aspects and began to apprentice under Michael Baron, finding that shaping shed a new light to his surfing.
And while Bennett gets much satisfaction in creating boards, he emphasizes the hard work and dedication involved, which is often a deterrent for kids getting into the field. "For three and a half years, I have pretty much been here every day," he said. "I surf in the morning and I get here about eight or nine a.m., and I am here until six or seven at night."
The shaping world is also a locked down market to try to break into. For the guys who want to start their own labels, it's virtually impossible as companies that eat up a big piece of the pie, like Al Merrick, Rusty, and Surftech, occupy a big percentage of the market share and aren't going anywhere.
This didn't stop Mike Walker, who at 26 started his own label known as The Walker Project. While living in Baja Malibu during high school, the combination of breaking numerous boards and extensive periods of down time pushed Walker to build his own boards. Soon after, he created his own company while shaping boards for labels such as Rusty, Sharp Eye, and South Coast on the side for more practice. "I did it backwards," he said. "Most shapers apprentice under a label and then go out and break off on their own. I already had my own label."
It's hard not to be cautious though about pursuing a career in shaping because of the uncertainties that linger in the industry these days. The combination of a decrease in surfboard sales, the rise of the shaping machine, and production being sent offshore would give anyone second thoughts.
But, like all other shapers, these young board builders continue to cling onto the belief that there will always be value in a custom handcrafted board. "I think there will always be a demand for the custom make board, one made here and just for that individual," said Walker.
Are hand shapers a dying breed?
"Yeah, I think so. I already feel like a dinosaur."
Gary Linden, Linden Surfboards
"Oh yes. In my opinion the surfboard builder has gone from skilled artisan to somebody who pops out toys."
Tim Townsley TNT Surfboards
"No, I just think there won't be as many of us as there have been in the past. There is still going to be a demand for custom boards for the top 5 percent of surfers."
Ernie Higgins, G&S Surfboards
"Not yet. Traditional shaping is so established in the sport so far. But with the advent of composites and other boards, it could be in the future down the road."
Skip Frye, Skip Frye Surfboards
"It seems like a dying trade. A lot of boards are just going into mass production instead of the custom hand shaped craftsman traditional style."
Mica Wood, G&S Surfboards
"In the next ten years I don't think there are going to be that many guys hand shaping. I think that all the younger guys are going to be finishing boards off the machine."
Jason Bennett, Chemistry Surfboards