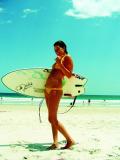 Her voice first haunted us in 2001 when its honesty and sincerity poured forth from the soundtrack of the year's best surf film, Shelter. Simultaneously written and performed by Tristan during a hasty recording session, the acoustic, impromptu minidisk recording of "Anything At All" was handed to filmmakers Taylor Steele and Chris Malloy. They decided that the song's mix of earnest, heartfelt vocals and simple, guitar-strumming melody was a perfect match for Shelter. That searing ballad of heartbreak and personal realization quickly became one of the most popular on the soundtrack, and with that song a million hearts were broken—and a million loyal Tristan Prettyman fans created.
Since that day, Tristan, who was once shy about performing in public, has gone on to tour with the likes of G Love and Jason Mraz, signed a deal with music giant Virgin Records, and by the age of 23, released a debut album appropriately entitled Twentythree. An exploration of love and life with hints of both smiling naiveté and an insightful maturity that spans well beyond Tristan's years, Twentythree comes off like a child who's just amazed her parents by uttering some bit of profound and worldly wisdom. The album speaks from the refreshing perspective of a young girl trying to find her way in the world, and encompasses a fitting range of emotion—alternating from confident to hesitant, soaring to sorrowful, within the space of a single breath.
But amongst her successes—you know, signing deals with major record companies and recording chart-topping albums—as the final song written for Twentythree, "Simple As It Should Be," will attest, Tristan somehow still finds a way to keep things simple: making time to write more songs, play her guitar, and…go surfing.
How old were you when you started playing and writing music?
I started playing around with the guitar when I was 15, but it wasn't until I was 19 or 20 that I realized that music is what I wanted to do. I've always enjoyed writing—I took creative writing in high school and college and really liked it—so when I started playing the guitar it was just natural for me to put words to the music. One summer when I was 20 I was hanging out a lot at [pro surfer] Benji Weatherly's house in Encinitas. He always had a lot of friends around, so we'd all go surf in the morning then have a barbecue back at the house in the afternoon. Everyone would bring their guitars and we'd just hang out and play music. I think that's when I really started getting into playing more and writing my own stuff.
What inspired you to pick up the guitar and give it a go?
When I was little, my dad had this old guitar that he had bought in the 70s. My parents kept it in the guest room and they didn't really let me play with it 'cause they didn't want me to mess it up. But eventually I got a hold of it and started playing on it until I got my own. I actually still have that old guitar—and it is pretty messed up.
Years before the release of your debut album Twentythree, your first widely heard song, "Anything At All," appeared on the soundtrack of the surf movie Shelter. How did that come about?
Remember that one summer I told you about when I was hanging out at Benji Weatherley's house a lot, playing guitar in his living room after surfing? Well, Benji's roommate at the time, Joe Gugulielmino, was working on the Shelter soundtrack with Taylor Steele and the Malloy brothers. Joe came home one day while I was playing guitar at the house and was like, "Who is this girl playing guitar in my living room?" He had been working with different musicians on the soundtrack and really thought my style would be good for Shelter. Joe asked me on the spot if I would record some songs with him for the soundtrack, but I was too shy to accept. It took a lot of encouragement from my friends before I actually agreed to meet up and record some music with him. I recorded about 12 original songs with Joe, but the one they ended up using in the film, "Anything At All," was totally impromptu and unplanned. It was only half-written when I went to meet with him, so I made up the rest of the song right on the spot while he recorded. The guys loved the honesty and spontaneity of it, so that's the track they chose.
Before you started getting heavily into music, I hear you were all about surfing. When you were younger, did you ever envision yourself getting serious with your surfing, maybe taking it to a professional level?
One year during junior high I got 5th in the state at one of the surf contests and was completely ecstatic. In school, I had my group of girlfriends who were on the surf team with me and we would dream about becoming pro surfers, but I never liked competing all that much, so I guess it wasn't meant to be. I was sponsored by Roxy and did some modeling for them, but I never got into competing enough to be really serious about it. To me, surfing has always been something that I did for fun with my friends and family, something to do when I didn't want to think about anything else and I just wanted to have fun. I love surfing—it's been a big part of my life.
The San Diego surfing community seems incredibly supportive and proud of you. How do you think that growing up as a surfer here in SD with the beach as a backdrop has shaped your music?
I was actually just thinking about that the other day—how we are all products of our environment. My music is very lazy; I'm a lazy person in general. I like to wake up late and surf all day, and I'd love nothing more than to roll around in the sand all summer long. Although I don't consider my music to be all that surfy. San Diego, North County especially, is a sleepy, cozy little place. I think that growing up in that type of laid-back atmosphere has really shaped my attitude and given my music that mellow feel.
A lot of people have described you as the 'female Jack Johnson.' What do you think about this?
Way before I ever recorded my first song, I remember sitting out in the water at Cardiff Reef during the Rob Machado contest. The loudspeakers were blasting Jack Johnson, who at that time was just becoming popular as a musician. Listening to him in that moment everything suddenly became so simple and clear to me; I realized that you didn't have to be any certain way to play music, you could just be yourself and play what you felt, and as long as you were honest, that's all you'd need right there. I used to think that I'd never make anything of my music; in my mind I had this long list of reasons why I'd never be successful. But listening to Jack in that instant made me realize that none of that stuff mattered, and that I didn't have any excuses whatsoever for not pursuing music; so I went for it. Jack has been a big inspiration for me; musically speaking though, I think we're very different people. I tend to be a little bit darker, offering a girl's perspective on love and life that's unique to my music.
Soulful, down to earth, guitar playing, singer/songwriters like you are becoming more and more popular these days…
Yeah, it's so great. I feel like the music that's becoming popular now is more simple and real—it's being created by artists who make it 'cause they want to, because it's important to them, not just because it's going to make some record company tons of money. I remember when I first starting playing music there was a time when the whole thing seemed so unattractive to me; when America went through that awful Britney Spears, teenage pop star stage where musicians were being prefabricated to look, sound, and act a certain way that would sell a lot of records, and the music was just a bunch of junk. Things are beginning to change—people want more out of