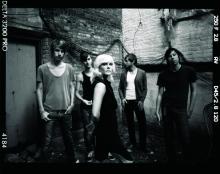 Having worked in a music venue during my college years, I've watched more live performances than I can count. The House Of Blues in the Gaslamp District of San Diego put gas in my tank and food in my stomach, but best of all it allowed me to see live music every night of the week -- Every music critic's dream, right? Not necessarily. I've endured some painfully bad shows – Russell Crowe playing the guitar and singing. Need I say more?
But… then there's the upside. Bands that make more than just an impression, they give new meaning to live music. I remember seeing a band I'd never heard of before take the stage and kick the shit out of just about every performance I'd seen that year. They were called The Sounds.
You would've thought five Calvin Klein models had just taken the stage after devouring a healthy mound of Columbian snow on the mirrors backstage. They had more energy than a kid hopped up on No-Doze and they weren't taking any prisoners. The crowd sat obediently in the palm of their hands from beginning to end like I'd never seen. Fashionista-types danced furiously in the crowd, shouting every lyric in perfect time with the blonde haired beauty who strutted around the stage like she owned the place. Her name is Maja Ivarsson and she looks like the hairstylist at the trendy punk rock salon who could probably kick your ass despite her misguiding good looks and petite figure. Ivarsson is complemented by several strapping young lads, weighing in at about 150 pounds each, all of whom are nearly 6'6" tall.
Felix Nilsson, lead guitarist of The Sounds, took the time to speak with us during last year's holiday season to talk about life, partying and how the band has made Sweden the proud father of something more than just the Volvo.
What kind of relationship did you all have with one another before forming The Sounds?
The bass player, Johan (Bengstonn), has been my best friend since we were nine. We grew up playing tennis and soccer. Eventually that bored us and we just end up hanging around Helsinborg for five or six years. Maja (Ivarsson) and I were in a class together, we'd known each other for about two years before the band. The rest of the band (Fredrik Nilsson and Jesper Anderberg) came along when we formed the band.
Congratulations on making it on Rolling Stone's top 100 songs of 2006. How do you feel about that?
It's awesome. It's incredibly awesome. When I read it, I was like "Oh really? Huh, that's cool." I believe we were number 43, so we made the top 50! I haven't seen the list, but Rolling Stone is a great magazine and I'm honored.
As the band was starting out, what was the process in trying to gain recognition and eventually becoming signed by New Line?
We played over 100 shows before we had a record deal in Sweden – which is a lot. We toured every city; we played in pizza parlors and really bad clubs. We basically just kept going and eventually people started to hear about us. It all happened kind of fast – everyone knew about us and we still didn't have a record deal. We were signed after about a year of touring. I think the record company was impressed because we'd already played so many places and had a following without ever having released a record.
I agree. After the signing I figure you were finally able to gain the international exposure you'd hoped for. How'd that work out?
We didn't know we'd be coming to the states. We received an offer to come over after the initial record deal. James Iha from the Smashing Pumpkins saw us play in Stockholm and really liked the band. He hooked us up with New Line Records which gave us the opportunity to come to the states.
How do you do it every night, keeping the show up to par with the night before that? Every show I've seen seems to be as high energy as the first one I saw years ago.
Thanks, it's good to hear that. We just have fun. We've waited for what seems like 20 hours to go up on stage at times and it can seem like it's not worth it. But as soon as we get up there it's just like, "Yeah, I'm here for a reason." Also, none of us can sit still while playing. We all get really into it. We've also toured a lot – we've played 210 shows this year. I never realized we'd racked up that many until my manager recently told me.
How was the Warped tour and what was the biggest difference between it and your own tours?
First off there are like 100 bands and it's outdoor. We might be playing in the desert one day where it's 100 degrees, which is so hard, but we only have to play for 30 minutes. Second, we might be waking up at 10:30 in the morning and playing at 12. We usually have our tour manager come wake us all up.
So what's recently been playing on your I-tunes or CD player?
I've been listening to some electronica music coming out of Norway. I've also been listening to some Mozart actually. I've been trying to rid myself of the hyperness. I like to listen to Mozart when I'm sitting around checking my e-mails. It's good to change the music up that you listen to. I've also been listening to The Killers, the new album is great.
How was the recording process at Studio 880 in Oakland? There are some very big bands that have recorded albums in that studio.
When you walk in you see a huge American flag covering the entire wall. It really made me feel like "Yeah, I'm Bruce Springsteen right now" cus' of the flag and everything. It really gives the feeling that you're in the states, you're in California, and you're about to record an album. The first few weeks were a little bit sloppy because we were drinking. That can be good and bad because it can be somewhat inspiring but the reality is that we're not that good at drinking while recording. After a few weeks of recording we were like "This is not that good, we need to stop drinking."