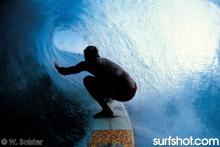 Warren Bolster's last project before his death was assembling his favorite photos for The Bolster Collection, a limited edition set of prints and a yet to be released book. The following is an excerpt from The Bolster Collection about how he got his start in surf photography in the San Diego area:
By 1970 I moved to San Diego, California. It was like finding heaven on earth – kelp, glassy surf everywhere, and relatively clear water. I whined to my parents that I needed a good camera to record all that was being revealed to me, and I must have written a pretty good letter. With the help of a magazine, I soon had a basic water housing for the camera, and almost immediately I had two cover shots from the water (forgive me if I don't count the one tabloid cover) and many other photos of mine appeared in its pages. Within one or two issues I was a contributing editor shooting everywhere I could. All the endurance from being a "miler," and the experience of being a surfer for 17 year's quickly resulted in a living. There were hardly any other photographers and I was living a dream come true, and in the ocean nonetheless.
Right from the start, things began happening fast. I was on a fast track to the top. In 1974, the magazine made me their number one photographer, firing their top guy and putting me in his place but the salary better suited to a single guy sleeping on floors and sofas than the married man I was. I begged them to give me enough to survive so that I could continue in the winter what I had done the previous summer in the now familiar Honolulu. They said they simply wouldn't, and I had to quit. Even then, what was being offered was $500 a month, and wasn't enough to make it in Hawaii. They had to go back to their former photographer and he demanded what was then an outrageous sum of $1300 -- and got it! I went from the top to the bottom.
Now back on the street with nowhere to go, luckily I was picked up by the magazine in the business, SURFER (there were only two big one's in the 70's) as an associate editor. Ad sales boosted my income, and I was beginning to be treated as I'd always dreamed. As a senior photographer too, I had a chance to still do what I was quickly learning was my dream – photography of all the visual extremities of the lifestyle of surfing that I loved so much.
I began waking up at two or three a.m., driving from my new home in Cardiff in North County, San Diego, to the Dana Point offices of SURFER and on to Laguna Beach to the north to get ready to shoot the sunrises from inside the tube if empty waves. A bit later in the morning, just before work, I'd head to wherever it was good to shoot empty waves or surfing. At first it was slow as it was summer and the fog became a constant source of frustration. I wasn't getting published as much, but I knew the winter would soon be there and I'd be able to prove I knew San Diego, and by then, literally, points to the north.
Warren Bolster was by every measure and any account no less than a pioneer. In an industry that has evolved from alternative to mainstream, from start up to multi-billion dollar cash machine, we have a dirty habit of turning our back on those who have stoked our engine of progress. We forget quickly and far too easily considering we are in a business that, not so shrewdly, describes itself as a "bro industry." Judging by the way we treat men like Warren, this certainly isn't a quality we should boast about quite so liberally. But, if we are truly that – a very small, big industry – then Warren Bolster should never have been ushered into obscurity. He was better than that, and deserved far better from us – we owed him at least that much.
I never met Warren – I wish I'd had the pleasure – so I don't know what type of man he was, but it was said that he was a man of principle, so much so that it cost him his job. And you know what, that's all I need to know about Warren. To have that much conviction is both torturous and admirable – most of us walk in the shadows of men like that. Men like that are typically revered, worshiped on pedestals like idols. Not Warren though, he struggled until his death, perhaps lost in the overwhelming tide of progress. So, to those of you in the industry, the stepchildren of men like Warren, take a minute and remember where we started and who the pioneers were who forged a living out of passion.