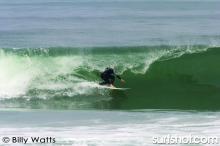 A four-day weekend is just around the bend and you start to think of the different ways to spend it. With little money to spend, your inclination leads you south. A friend agrees to put his life in your hands and ride shotgun into the California frontier. Water: check. Stove: check. Spare tire: check. All of the necessities get neatly stored in the back. The bag of Cheetos is strategically placed behind the front seat. A Baja road atlas in hand and the minimum four-day car insurance behind the visor, you head up the hill to Tijuana beaches and the adventure begins.
Our Latino Morocco offers us a refuge. It allows us to immerse ourselves into another place so removed from the one we know. It is unarguably one of the most point break riddled coastlines in the world. Its local cuisines are as delicious as any. It's a place where nothing but the tides, sun, and stars measure time. But most prevalent are the contrasting cultural, political, and socio-economic differences between our neighboring nations, a disparity unlike anywhere on earth.
Nothing feels better than that first hot shower at home after six days caked in salt and dust, a 10-hour drive, not including the three-hour border, and the 350 wrapping, sand bottom, point break rights. Often, when the mood for empty desert points and a dusty adventure strike, and I realize I've had enough of the festering Southern California urban complex, I head south. I'll bring a prepared quiver, two 6'0"s and a 10' foamy, well equipped for a Baja point. I'm driving the Tijuana-Ensenada stretch and stacked corduroy lines disappear into the fog that blankets Todos Santos and Punta Banda. It's the most amazing coastal view from Ensenada to Big Sur. And the best detail to the scene is the exploding white water off the rocks that shelter the cove at Salsipuedes, the bombing deep water sets that move boulders as I approach San Miguel and that tickling anticipation of what it's going to be like nine hours from here…deeper into our closest frontier.
We relish the rustic adventure, the boredom of the desert, and the silly things we do to divert that boredom. New chores fill the recovery time between aching paddles and painful rock dances back up the point after a long spinner. Suddenly, fire is the most important thing in the world to ensure happiness. You find yourself uprooting a 12' Yucca for wood, risking the impalement of every inch of your body by its many wooden sword-like thorns. After a few beers, some fresh made ceviche, half a bag of tortilla chips, and a few hours of staring into the dancing flames and inhaling Yucca fumes, it's time for retirement. It's 8 p.m.
The days become cyclical. Each one the same save for a 2' bump in the pulsing swell. Responsibilities call from home. Suddenly you are in a bed -- your bed.
Baja California is San Diego's most plentiful, enjoyable, and intriguing attribute. Many would be less happy, less traveled and far less interesting if it weren't for the other California. Every surfer has their favorite spot that, a few times a year, lures them away from their job, school, and obligation. How fortunate we are to have a land of plenty so accessible.
The saying stands: all good things must come to an end. I am sorry to say that all those fuzzy sensations that keep you going back for more, will be distant memories long before you are relegated to a 7'8" as your shortboard. We live in an epoch of globalization on all frontiers. Science proves that there is only 20 to 30 years of fossil fuels left to power this planet. The Amazon rainforest is a mere fraction of the size it once was. The atmospheric diminishment of ozone centered over Australia is driving the entire continent into drought. They say in 50 years Perth will be a ghost town because of lack of water. And soon Baja California, with all of its lunar beauty, delicate ecosystems, and perfect point breaks, will be destroyed. Your favorite spots, Cuatros, Scorpion Bay, Abreojos, Santa Rosalillita, Shipwrecks, Boca de Tule, and Salsipuedes will inevitably be gone -- some sooner than later.
If the bending rights of Punta Colonet are your fancy, well, you better get down there quick. By 2008, the construction of a mega port larger than those of Long Beach and Los Angeles combined will begin at your favorite fishing anchorage and surf spot. The port at Punta Colonet will import not for Mexico but for the U.S., alleviating a lot of the pressure carried by other west coast ports. The rail line connecting it to the United States won't be selling you coach tickets so don't even ask if you can bring boards. Sneaking into the cars packed with Asian born, U.S. bound goods might not be hard, but it will be dangerous. What Homeland Security officer is going to unload an entire train of cargo to search its contents? It's the dirty bomb hidden beneath the boxes of cumquats that is the scary thing.
Sooner than you think, there will be no place to camp at Salsipuedes. But you will be able to buy a home there. Don't forget your clubs. And if you own a boat the new marina below your Salsipuedes home can house your vessel, although I'm sure it will be called something like Mar Vista not "Leave if you can." Oh, and how nice will it be to be able to drive from San Jose del Cabo to Shipwrecks in 10 minutes. The prices of accommodation will be heavily inflated because of the East Cape mega-resorts, so you might want to stay in La Paz. It'll only be an hour drive on the new coastal highway. And the good thing is if there is a hurricane swell pulsing, you can check all the boat harbors that were once point breaks and imagine how good they used to be.
The entire Baja coastline will be privatized one day like most of the northern part of the state already is. Say goodbye to your refuge. Those spots that remain will suffer from the common problems that plague our line-ups at home. Poor water quality, crowds and people saying, "how good it used to be" will not be infrequent experiences. For many this has already occurred. For others it's imminent.
I am not being pessimistic. I am being realistic. I am only speculating trends in globalization, American greed and lackluster governing by Mexico. The Baja that we know will soon be very unfamiliar. Your quick three-day get away will soon involve a few tall boys and a blow up raft on Lake Havasu. The days of disappearing on deserted, dusty dirt road adventures near home and the unknown of Baja California will soon be gone.