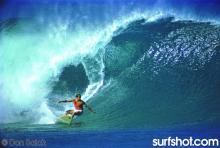 Surfers on the professional contest tour live a life of envy for some, and to others a life of hassles and bullshit. Love it or hate it, these freakishly talented human beings who have logged hundreds of hours of heats and thousands of traveling miles, have earned our respect and awe for their profound abilities on a surfboard. Most people don't see or hear much about what happens when they are not competing for cash, oversized trophies and glory. I feel fortunate to have been around for some of those choice moments.
Back in the mid-70s, when pro-surfing was just starting to establish itself, I competed in WSA contests and during the 1975 season, was the top-rated 3A division rider in the Santa Cruz-Monterey district rankings. As such, I met a lot of really talented surfers whose abilities I greatly admired. This was especially true when the national team from South Africa came via Hawaii to surf in the first United States versus South Africa Encounter at Steamer Lane in Santa Cruz. Their lineup included Shaun Tomson, Michael Tomson, Jonathon Paarman, Peers Pitard and other extremely hot riders. Our continental U.S. squad included Chris O'Rourke, Tony Staples, Steve Seebold, Dale Dobson, Jim Cartland, myself, and others. Local knowledge prevailed and our team won the event. Staples took first place over local boy Joey Thomas and I placed ninth, which I was pretty excited about, considering the talent on hand. First place was a whopping $200. The best part though was meeting great surfers from other parts of the world which helped kick start my involvement with the emerging professional surfer lifestyle.
By 1976, there was an actual world pro-contest tour happening, although for many, it was just an excuse to party really hard. At the 2SM-Coca-Cola Surfabout in Sydney, Australia that year, Hawaiian Rory Russell showed up for a heat after a long night of raging. Gerry Lopez said, "Where's your board, man?" Rory blinked, stared ahead and realized he didn't think to bring it with him to the beach from his crash pad. The next year, he forgot his wetsuit. Other amusing moments from that event included Rabbit Bartholomew checking out the bizarre, giant, silver-painted crab given to the winner of the contest and joking, "I don't care about the money; it's the trophy I'm after!" One young Shelia told me that she "sat on the same toilet seat as women's pro Lyn Boyer, and it was still warm!" Owl Chapman offered the pearl of wisdom that, "The world is a lobster." I still haven't figured that one out. Meeting Simon Anderson, who won the contest and Alan Hunt, who later became the head honcho of the ASP, were pivotal moments as I spent a lot of time with them in Hawaii in the following years taking photos and writing.
In 1981, Simon brought his newly designed three-finned thrusters to Hawaii. He had already won the Coke Contest in smallish surf and the Bells Beach Contest in epic 15-foot surf on one and had the entire surfboard design world buzzing. When he won the Pipeline Masters on a borrowed thruster he built, he confirmed the validity of three fins and changed surfboard designs forever. Staying at his Kuilima condo with him and his crew while shooting for Surfing and Tracks magazines was obviously a memorable time. The contest victory party that night at the condo was a festive insanity. Nick Carroll, Rabbit Bartholomew, Dean Hollingsworth and many others took part in a food, drink, shaving cream, clothes and furniture-flinging madhouse of wildness that left the place looking like a bomb hit it. Only the bravest ladies stuck it out. The next morning I awoke to some pretty putrid smells and the sight of overturned furniture and greasy chicken oozing down the sides of dinged-up walls, along with a number of pro surfers laying face down in their own spew. Simon took it all in stride, although I doubt he got his condo deposit money back.
Ultimately, the best thing about all the years of being on hand and covering the growing professional surfing tour was witnessing some incredible performances in and out of competition. Shaun Tomson backdooring an impossibly nasty, ledging wave at Dee Why Point in Australia and emerging dry six seconds later demonstrated his amazing tube-riding skills. Seeing Jim Banks take a direct hit on the head by a 12-foot Pipeline ax that exploded so hard we felt the tremor on the beach and then watching him get back on his board and paddle out was a mind blower. A few minutes later, after Derek Hynd had called him Superman, he paddled in and was glazed and trembling, probably out of shock. Observing Mark Richards and Tom Carroll ripping Haleiwa and Kauai with their creative, slashing styles was definitely inspirational. Watching Mark Occhiluppo tear apart solid Jeffrey's Bay on his back-hand was some of the best surfing I've ever witnessed. Even watching Tom Curren make Huntington Beach slop look good was educational.
If you've never been to a major pro-surfing event, go. You never know what you may see or hear and that is part of the fascination and fun of the experience.