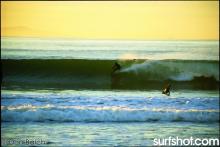 In the time before iTunes libraries, YouTube clips and live web casts, a traveling surf movie coming to town was a huge event. Every surfer worth his wax would show up for it. In my home town of Santa Barbara, this was where all the different local tribes of surfers gathered in one place to get universally stoked. This was our big opportunity to see heralded surfing talents riding exotic waves in far-off destinations long before the world evolved into the electronic whiz-bang age that it is now. Movies like The Endless Summer got us fully pumped with footage of dynamic, new, surfing destinations. Seeing the perfection of Cape Saint Francis for us impressionable kids was like rain on the Sahara Desert. We soaked it up quickly and thirsted for more.
With surfing movies being a big attraction, I wanted to make my own local Santa Barbara movie and tap into that buzz and excitement. It was 1971and I was armed with my trusty super-eight millimeter movie camera with a ten-to-one zoom and a water housing I built with tips from Harold "Wardy" Ward who worked with George Greenough. I already had a pretty good base, having filmed the incredible winter of 1969, when Rincon had 15-foot cleanup sets. I shot local surf breaks, wacky comedy bits, time-lapse sunsets, and all the stuff you would typically see in a big production surf flick. The difference here being it was all local waves and riders. As I was to find out later, this was a big time lure.
Filming stretched over a year with clean days at Hammond's Reef featuring Paul Kemnitzer and Rincon with Chris Kunze, Steve Brambach and Ronnie Wolfe. These local guys all ripped back then and probably still do today. I scored El Capitan on an unusual week-long pumping swell that attracted top L.A. South Bay talents Brad McCaul and Tiger Makin for some added talent flavor. Shooting from the water added some cool perspectives of that fast, barreling wave.
Then I edited it all together and taped a soundtrack from a bunch of hot rock and R&B bands. (Heck, I didn't know anything about artist licensing back then and besides, it was just a small, local endeavor.) The film was finished and I titled it "Sweet Natural Juice." My dad, who didn't surf and didn't get the surf lingo "wave power-equals-juice" correlation, found the title a consistent source of bemusement.
Finally, the big debut night was set for August 14, 1972. I rented an old, smallish library hall in Montecito which seated maybe 100 people and stuck posters up around every surf spot and board shop in town announcing it. Admission was $1.75. There would be two shows and I figured I might get a small group at the early show and the more "hardcore" surf crowd at the later show as was usual.
My sister's boyfriend Terry, who was a big guy, collected money at the door and to my surprise, the first show filled up and we had to actually turn people away. The audience however, seemed to really dig seeing all the local boys and spots. After that, well, the evening really took off.
As the show ended and people filed out through the main doors, a roar went up outside as there was an amazingly big crowd outside waiting for the next show. I couldn't believe it and knew this was gonna be a wild night. Santa Barbara doesn't get much surf in the summer and this crowd was fully jacked and ready to rage.
Oh man, was I nervous. This was quiet Montectio, a sleepy little village where basically nothing goes on at night and here was this loud, smoke and liquored-up mass of surfers ready to cram into this little building and the local fire station was just down the street. The hall filled up fast and all chairs quickly ran out. "We don't care, we'll stand along the walls," was the general consensus of the crowd. "Well okay, but not too many," I urged.
The people kept coming. Finally, Terry at the door said, "We have too much money!" as if to try to stop any more from pressing in. It was probably double the maximum capacity at that point.
I went to the entrance and yelled out, "I'm sorry, we're way beyond full! We can't take any more!" Then I closed the doors and squeezed into the center of the room where the projector and sound system was and started the flick.
As soon as the first Rincon wave hit the screen and a huge "Awwwhoooooo" went up, the doors busted in and probably eighty more people started shoving in. I looked at Terry with a resigned look of "Just let 'em…what can we possibly do?" and the jovial howling went up a few more decibels.
Okay, now this place was really packed, ridiculously full, but nobody seemed to mind. It was simply one big surf fever frenzy. My dad had brought his social circle wife and I think they were both stunned at this wall-to-wall crush of long-haired, hooting surfers around them. Incredibly, the fire department didn't shut us down, maybe because I knew one of them, I don't know, but the scene was insane.
As footage of the 1969 Hawaiian swell that produced 15-foot Rincon hit the screen, the crowd went nuts. Seeing your local spot that big blew people's minds and the old building was rocking. Suddenly, the screen went black, and the crowd bellowed in outrage. Oh my god, what the hell happened? I looked under the table and saw young, eight-year-old Tom Curren, who had been avoiding the crush by crawling underneath me. He had accidentally kicked out the plug and almost caused a riot. I quickly reconnected the projector and stopped the soundtrack briefly to let it catch up, but it didn't matter. Everyone was cheering so loud it was hard to even notice.
Miraculously, the Montecito Hall survived in one piece, although the bottle and beer can cleanup outside was rather time consuming. The gate took in enough money for me to take a two and a half month-long surf trip to France shortly after, where I filmed La Barre, Hossegor and Lafitennia to add to the movie (renamed Fluid Pleasures) for several more shows before I retired it. None however, could match that wild premiere night back in those bygone days before the video and internet age.