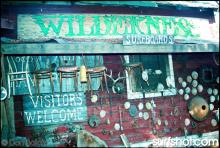 Since the embryonic days of modern surf culture and lifestyle, the local surf shop has been a traditional gathering place for us wave riders. Through the years, as surfing has evolved into a global, billion dollar sport, ye olde surf shoppe has also evolved into a fairly homogenous, slickly packaged display of products and services. Although, some have tried to retain and preserve some of their original soul and style. Along some West Coast establishments, soul and substance are subject to personal tastes and these are the ones that stick out in my mind.
I once visited Vancouver Island, off the coast of British Columbia, Canada, and came upon a wood cabin snuggled into a forest thicket. I was surprised to discover it was a surf shop with a surfboard for a sign that read "Live to Surf." Rustic, at the very least, the local weather made for a formidable foe.
"Novembers are brutal. We have an 800-pound stove that moves around because the wind gets so strong against the building," The shop owner Liz said. "You've got to have heaters in every room or you get mold. Mold on everything, even yourself! The weather frequently gets bad, very bad. After you quit smoking, drinking and taking drugs, you can stay at home and feel sorry for yourself," she said with a smile. "The waves can get huge. Our friend's coastal home got blasted by giant surf one year and the water is 55 degrees and under all year round." Even with all that, I knew that Live to Surf said it all about the love and commitment of this hardy section of the Canadian surf community.
Back in the early 1970's, the Monterey Peninsula was hardly known as a surfing destination. A rugged, craggy coast with fickle oceanic conditions and frequent, chilly fog didn't measure up with the balmier conditions of Santa Cruz across the northern end of Monterey Bay. So I found it intriguing when I encountered a rather unusual surf shop in Pacific Grove with the odd name of "Big Foot." I recall it having a few boards sitting around, several old wetsuits, a couple t-shirts on a rack and not much else. In fact, when I went in, there was nobody even there. The owner, it turns out, was hanging out over in the hippie-influenced restaurant next door called Tillie Gorts. I heard later that the Big Foot Surf Shop may not have had a big selection of surfing-related necessities, but did have some availability to other, uh, legally-not-displayable items for your good time enjoyment. Okay, this was the 70s. I'll just leave it at that. In later years, more legitimate surf shops like Sunshine Freestyle, On the Beach and Liquid replaced the classic Big Foot. Gone, but not forgotten, I sure would like to have that store front sign now. I'd hang that baby right over my work bench.
Growing up in Santa Barbara, I recall a number of down-home, early surf shop incarnations. Yater and White Owl both used low-key, cottage storefronts in the small, seaside village of Summerland. Ike and Bradbury also were pretty much surfboards -- only without all the trappings. Even Channel Islands Surfboards' first shop was a basic hole-in-the-wall affair that was easy to walk right by if you didn't notice the little signage. Al Merrick's smiling wife Terry was behind the small, wood-walled counter as you entered next to a short rack of Al's rounded pin and swallow tail, single-fin designs. I ordered a board from him shortly after he opened, just to try out something different from my years of riding Yaters. Al shaped boards in the warehouse room in the rear. It's amazing how far that business has grown over the decades.
Probably the most interesting surf shop I've encountered to date was also in Santa Barbara. Located next to a freeway onramp in an old house surrounded by a cluster of trees, Wilderness Surfboards, run by Bob Duncan, takes the prize for the most unassuming, least commercial shop I've visited. Surrounded by stacks of weathered wood and miscellaneous flotsam and jetsam worthy of a Sanford & Son junkyard, Wilderness features some designs by the innovative George Greenough inside the house. The outside wall was adorned with old abalone shells along with rusty winch hooks, wooden chairs, deer horns and other oddities that seemed to have no significance to surfing and I dug it all. I like worn, vintage items that have some history to them. Inside, there were cobwebs on the ceiling, thrift store shirts on a rack and a display of various surfboards in different stages of condition and design. Curled, faded surf photos were on the wall along with an ancient poster from the Tom Morey Noseriding Contest held in Ventura back in 1965.
Some people might find this unkempt, non-polished sort of business display a bit disconcerting or even a total turnoff. Frankly, I found this approach kind of fascinating in its sense of being mainly focused on the core devotion to the enjoyment of making and riding surfboards. They weren't concerned with the status quo of what a surf shop should look like and how it should be represented. I got that and even purchased an interesting, used 8'10 v-bottomed longboard while there. "Have fun," said Bob, as I left with a smile.