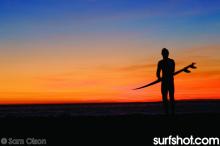 On any given day in the lineup in Imperial Beach (IB), Baltazar Macias, an athletic and determined surfer who is originally from Mexico, is one of a select group of hardcore local rippers which includes Dave "Dave-O" Paschal, Kyle Knox and Sean Fowler, aggressively chewing up whatever wave comes his way. Small, big, mediocre or epic, Baltazar chooses his line, makes his move and pulls it off. He is a man with a plan.
But ripping in IB is not easy -- the surf usually flat out sucks. Besides that, in 2006, a year with almost no rain, our best spot, the Boca Rios, famed for it's A-frame and board crushing barrels was closed 198 days due to sewage floating up from Mexico. The IB pier, a spot that can absolutely rock on a south swell, with roping wedging lefts spitting out of its north side, was closed 56 days. To make matters worse, beach closures that were once just a winter problem due to rains filled with toxic pollution flooding the Tijuana River, are now also a spring, summer and fall phenomena.
South swells and wind push sewage north to IB from illegal discharges from Playas de Tijuana and even as far south as Baja Malibu. At the infamous Banderas arroyo just north of Baja Malibu, 30 million gallons of foul water are discharged daily into the surf zone. During the epic mega-southern hemi in April, the sweet chemical smell of sewage hung over IB's beachfront the like the pungent odor of an old damp wetsuit left to rot in the trunk of a car.
For Baltazar, who grew up surfing in Playas de Tijuana, TJ's edgy and crumbling suburb by the sea, the reality of IB does not diminish his faith in the power of surfing to change our destiny and create an alternative future. He embodies the Clash's mantra "The Future is Unwritten" rather than the Sex Pistols slogan, "No Future." And with that manifesto of hope, Baltazar brings the 1st Annual Bad Boy Pro-Am, on July 7th to the south side of the Imperial Beach pier with a couple of thousand bucks in prize money, an air show, and a bikini contest.
A surf contest is not revolutionary. Except when it is. Because as much as IB has its problems, it is an oasis of peace in a border region filled with hate, poverty and violence. Where walls not waves divide surfers who ride the same swells, suffer when the beach is closed and cross the artificial border both ways in search of clean barrels. So to wipe out the boundaries that divide us and keep us from our sport, Baltazar invited pros from Mexico to cross the border, summoned his brothers from the Japanese Surfing Association and reached out to talented but cash poor surfers, from IB to Oceanside, who might not normally have the bucks to pay the normally expensive entry fee of a pro contest.
"I wanted to create an event that everyone can afford," Baltazar told me after a morning session in IB. "It was also important to invite people up from Mexico to participate in a positive event that brings people together. IB needs it."
Baltazar's optimism, determination and belief in the power of surfing to change lives, is what inspires me to continue battling to stop the worldwide push to replace surf breaks with marinas, toll roads, breakwaters, and toxic sand. If you think you can just walk away from this battle and replace surfing with golf, bowling or snowboarding you are sadly mistaken. There is nothing more beautiful, more satisfying on earth, than a good day of surfing. On the crisp winter mornings when the water in IB is clean and I surf clean overhead waves at the Tijuana River mouth with my two sons and lifelong friends with a pod of dolphins sharing the lineup, I realize that we have no future unless we keep fighting to preserve the beaches, waves and oceans that sustain us.
Serge Dedina is the Executive Director of WiLDCOAST. He has surfed in Imperial Beach since 1977. He can be reached via www.wildcoast.net.