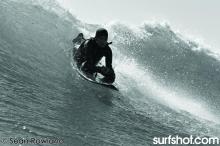 Surfers for a Cause
San Diego Surfrider Foundation
An indication of the success the San Diego chapter of the Surfrider Foundation experienced this year are the 1,500 NEW members in 2006. Although impressive, every surfer in San Diego should sign up to help protect the coast of the chapter's sphere of influence, including beaches from Trestles to Imperial Beach. Some of the newsworthy issues getting more media attention in 2006 were the chapter's involvement with the Save Trestles campaign to get government agencies to publicly disapprove of the project. The chapter was also critical in signing a new San Diego law that prohibits smoking at all City beaches and parks to prevent the unrelenting cigarette butt litter. www.surfridersd.org
WiLDCOAST
WiLDCOAST is an environmental non-profit founded by Imperial Beach local Serge Dedina to preserve coastal ecosystems and wildlife in the Californias and Latin America by building grassroots support, conducting media campaigns, and establishing protected areas.
Big news for WiLDCOAST in 2006 saw the initiation of the Clean Water Now Campaign that works with community groups on both sides of the U.S.-Mexico border to clean up the Tijuana River. A busy year for this campaign established the beginning of a strong database of information and outreach that will aid Wildcoast's 1,200 members to accomplish the goal of cleaning up the most polluted water bodies in the North Americas. www.Wildcoast.net
Liquid Nation Ball
The Liquid Nation Ball was created in 2004 by Santiago and Fernando Aguerre to help raise money and awareness for SurfAid International. This year, the Aguerre brothers offered the Liquid Nation Ball to the Surf Industry Manufacturers Association (SIMA) Humanitarian Fund. With the event's growing success and the surf industry's desire to help a variety of humanitarian causes, the SIMA Humanitarian Fund embraced the event to broaden the vision and help expand the reach of numerous beneficiary groups to the entire surf community. A total of $200,000 was raised at the event, all of which will be distributed to a dozen organizations that use surfing to support humanitarian efforts including malaria prevention, autism, spinal cord injuries, breast cancer awareness, mental illness and underprivileged youth.
UCSD Cancer Luau
On Sunday August 20 at Scripps the 2006 Moores UCSD Cancer Center Luau and Longboard Invitational raised a record $270,000 for the Rebecca and John Moores UCSD Cancer Center. Since its inception, this event has raised a total of $1.8 million to support cancer research at one of the nation's top centers conducting basic and clinical research, providing advanced patient care and serving the community through outreach and education programs. This truly soulful event boasted top surfing legends and amazing surf memorabilia to "surf for a cure."