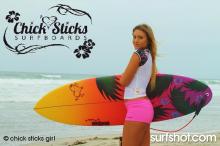 Chick Sticks Girls Surfboards are performance short board shapes offering progressive five fin option set ups. Chick Sticks surfboards are high quality USA shaped boards for girls by a girl company.
With the exception of the Little Screamer Performance Thruster, the Coolest thing is... you can Learn to Surf on these boards!!  To see the full 7 board line up please visit www.chicksticksbylola.com
The Chick Sticks Hoochie Mod is a versatile 5 fin option egg shape that shreds as well in 2 foot junk as it does in 8 foot bombs. This board is super easy to paddle and duck dive. Sticks to the shoulder like super glue for flawless drops ins. With a little extra volume and Girl Friendly shape this board is perfect for the Intermediate Girl who wants to take her Surfing to the next level. Std Size 5.10 x 19.50 x 2.75.