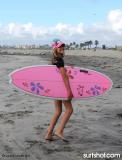 Girls Performance Surfboards WWW.CHICKSTICKSBYLOLA.COM $60 Ships Any Board Anywhere in the U.S.!!
Chick Sticks is a company located in Oceanside, Ca that builds Surfboards for Girls. The concept behind Chick Sticks is shorter, wider easier to ride Surfboards designed especially for Girls. These boards are more than catchy names and beautiful paint jobs, my shaper Luiz Masuzzo took his performance shapes and with my input made them Girl Friendly.  We even came up with a few shapes of our own specifically built with girls needs in mind.
The Chick Sticks Factory uses only the highest quality blanks, colored stringers, colored glue line with multiple fin set ups to make every shape as versatile as possible. All boards come with Full Paint and Fins. There are 7 board models to choose from and there is something for every Girl. No one else offers a full line of Girls and Women's Performance surfboards with girl friendly shapes that you can learn on.
♥ For full board descriptions please check out The Boards page on my website at www.chicksticksbylola.com ♥
♥ Featured in Women's Surf Style Magazine, Surf Sister and Soaked Magazine ♥
♥ Choose from 30 Fresh Paint Spray Designs or Your Custom Design No Extra Charge ♥
♥ Chick Sticks has standard sizes that work well for each board model or you may order any board in any custom size ♥
SHOPS CONTACT ME FOR WHOLESALE PRICING, DEALERS START BY LISTING CHICK STICKS ONLINE, NO MINIMUMS!! MY WEBSITE HAS MY CONTACT INFO...
Girls Surfboards, Performance Surfboards, Chick Sticks by Lola, Chick Sticks Surf School, Learn to Surf, Beginner Surfboards, www.chicksticksbylola Surfer Girls, California Surf Companies, All Girl Surf Companies, Chick Sticks, Performance Surfboards for Girls, Kids Surfboards, Painted Surfboards, Lola's Surfboards,